In lieu of Ohio's proposed ban on "pit bull dogs", I've revisited something that I've thought about for a loong time now.
Iowa needs a group - an organized group - to fight BSL. It's happening all around us, it's rearing its ugly head in various Iowa counties... it's only a matter of time before one of these bills appears in Iowa.
Thing is, I don't know how to start something like this. Ideally, the group would have a website for BSL alerts and information, contact information for IA politicians, information about "stigma breeds", etc. Groups would visit pet expos and public events, bringing friendly, well-adjusted, "bomb proof" dogs potentially affected by BSL - to show the public what wonderful animals they can be. Booths would also provide education and information. A side-project of mine (again, redyre reminded me of this with one of her posts) - a CHILDREN'S guide to dog safety and the "stigma breeds" - create a pamphlet with a "cast of characters" - a pit bull, a dobe, a rottweiler, an akita or gsd or chow... ya know, something fluffy.
I have a logo so far... just something I've been playing around with. The dog in the logo is named Heartland. He'd play a big role in the children's pamphlet...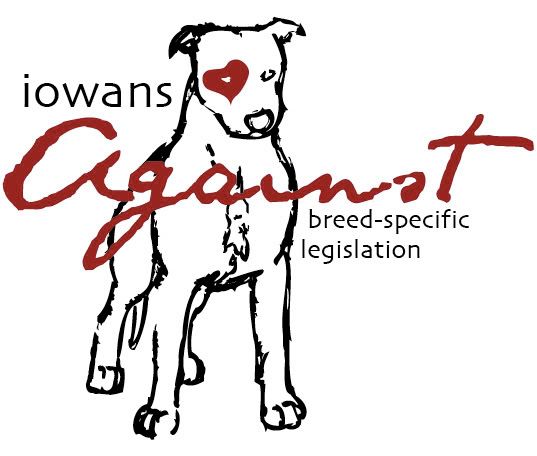 Whatcha think? Is there any way to get this out of my head and into the "real world"? Does anyone more experienced in these matters have any advice or suggestions?