Watch him as he goes.
I'd like to call myself an intuitive person. I can usually tell if something's wrong just by glancing at the person, or observing how they act. I'm usually a good guesser when it comes to guessing games. And I'm usually one of those people that nags a person until they tell you what's wrong. As per usual, my ability (talent? knack? Take your pick) never failed when it came to being driven home from band practice. For some odd reason, my director has an unusual tendency to hold us over on just the worst of days. Had I known what was occurring at home (which I'm sure you all were informed of), I would have left the school immediately- with or without his consent. Unfortunately, I didn't find out about what was happening UNTIL I pressed the subject with my mother. It started off with a simple, "So how's life?", which, I suppose, at that particular time, meant, "How's Hiro?" And when she began telling me about how he's acting so much worse and how he hardly was even moving, I knew, somehow, that it was either going to be that night or this morning. I told myself to stay strong- that there was still hope. I guess I knew, though, ever since we first realized that it was something serious, that there was just going to be no recovery.
We came home, and already by then, I was sobbing. The house was strangely quiet. Hiro was on my parent's bed, laying down on a towel. He was so weak that he could not even lift his head. His heart raced faster and faster, then it'd just slow down... And then, it'd race once more. I loved on him- I kissed him, I hugged him, I told him how much I loved him. I thought he was going to die. Right there. Right in front of me. His eyes would flutter shut. Then, they'd open and he'd nudge my hand with his nose. He was so sad acting. But, after awhile, he perked up. Even though he acted normal for the rest of the night, I knew that it was temporary. My dad took me aside and we made the final decision. We were going to give him one last night. And then, we would see how he acted in the morning.
Unfortunately, I awoke to my father telling me that we had to take him in. One last time. I hate being woken up to bad news. Ever since Nikki's passing, I've been terrified. I hoped and I prayed that one day, I wouldn't wake up to my parents telling me that he had passed. This was almost as bad as just finding out after the fact. It meant that I could bid my baby farewell, but it meant that I'd have to go and be there with him. I know- I could've stayed. I know that my parents didn't want me to go and see it. But, you have to understand, he's my baby. I loved him too much to let him go without a proper farewell. He wanted his mom to be with him. And I wanted to be with him, too. So, we made the trip to the vet. I held him in the back seat the entire time. I held him. I cradled him. I told him how much he meant to me and how much I loved him.
We got to the vet's office and we took him in the back. My dad and I held him as they did it. He didn't want to get the shot and struggled a little- which made me want to hold him close and just comfort him. The vet didn't seem too sympathetic. He handed my dad and I a box of tissues and that was about it. I know this will probably sound bad and maybe a tad childish (and I'll regret stating it later), but I wanted to sock that vet in the face as hard as I could. He might've been ATTEMPTING to be sympathetic, but it sure as heck didn't come off as that way. He didn't say he was sorry, and if he did, then it fell on deaf ears, or I was sobbing too hard to hear him. But his bedside manners were rather poor. Almost seemed like he didn't care. We wrapped little Hiro in a towel, and my dad took him to be cremated. I don't know who cried more- me or my dad. My dad's taking it pretty bad, too. My mom was already talking about a new dog, which I don't even want to think about right now. I'm not going to even consider for a few weeks. I have school starting tomorrow, and I hear sophomore year isn't as easy as freshman year. I don't know how I'm going to get through the day tomorrow. When Harry died, it took a LOT to keep it together at school. I told my friends at school, and they're all very sympathetic and sorry. My boyfriend is incredibly sad as well- he's a dog person, too. My entire family is really devastated, and so are little Hiro's breeders. I practically can't see what I'm typing because I'm crying so hard- so forgive the typos in this post.
Hiro was a good little boy. He was my baby, my best friend, my snuggle buddy, and he just loved everything. He loved life. Gah... If more people could be like that little guy, then I just can't imagine how good the world would be. He was so happy, so carefree, and he just was the most angelic thing. I loved him more than just about anything. He was the best little guy. Our time together was short. Too short, in my opinion. I hope he knows how much I love him. He was the best little buddy. Loved watching the Olympics. He'd watch it with me and Laur every night. It's gonna be weird not having him curled up next to me anymore. Or him not licking my leg constantly. Part of me can't accept the fact that he's gone. Someone so innocent and young should not have to go through that. He should still be alive. But, it's like my father told me last night: Sometimes, bad things happen to good people. The heartache is so great that I can't even begin to describe it. It's like a part of me died along with him.
I know, though, that somewhere, he's running around. He wanted to run, y'know? But he couldn't. His back legs couldn't support him. But, now, he's running around like he used to in the back yard. He's running up there with Harry and Nikki. Probably tag-teaming Nikki with his uncle and annoying the crap out of her like he used to. I wish it never would have had to come to us making this horrible decision. I didn't watch as they did it. I looked away. I'm glad I did- I don't want that memory of watching the needle sink in. I just want to remember my boy as the little happy thing he was.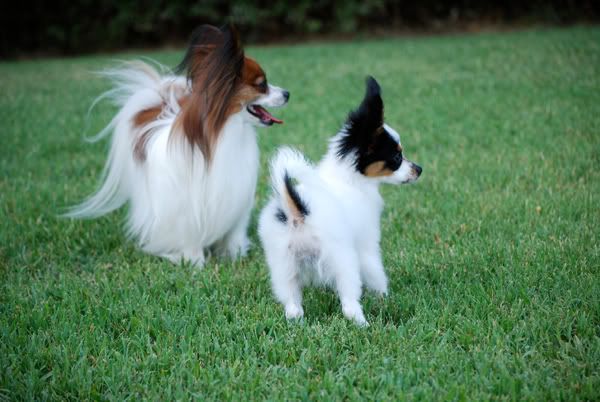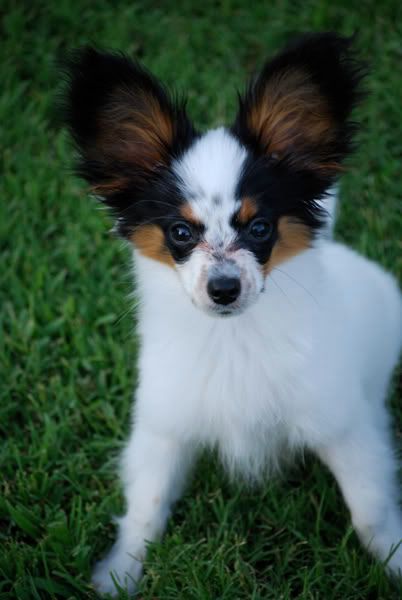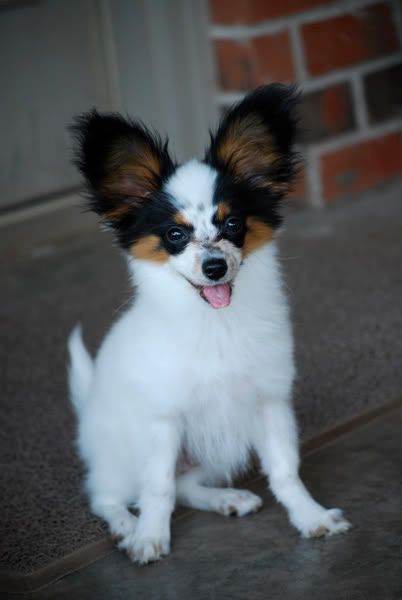 Run free, my little Hiro Nakamura.