Joined

Oct 8, 2008
Messages

49
Likes

0
Points

0
Location
I hope you're not sick of these threads, since I noticed quite a few already exist. Rudy is a 3 year-old 42 lb. mutt, rescued from the Humane Society as a puppy. They called him a German Shepherd / Jack Russell Terrier mix, but told me it was just a wild guess. I had a DNA test done last year, but they didn't have many breeds to test yet... so they re-tested him last month, and I'm anxiously awaiting the results. If anyone guesses correctly, I'll give them a cookie - LOL.
As for his personality, he exhibits herding behavior, mostly with my cats and small animals. He's medium-energy (a regular walk or park visit wears him out), very smart, stubborn, finicky, good with cats & people, iffy with other dogs. He also makes a lot of woo-wooing and yodeling sounds, which suggests Basenji or a Northern Breed. So far I've had people guess the following breeds: Kelpie (my top guess), Schipperke, Cattle Dog, Basenji, German Shepherd, various terriers, Doberman, Husky, Spitz, Shiba Inu, and so on and so forth. None of this matters of course, since he's just my baby... but it will be fun to solve the mystery! Anyway, here are a few pictures of him:
The tail is always curled...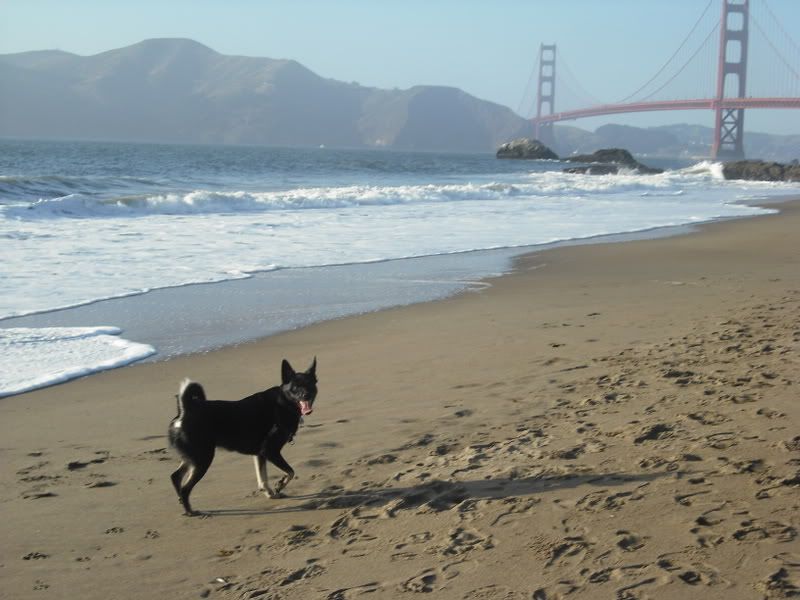 Next to a full-grown Pug, for size comparison