Hi!!
Well today we took our puppy to
Pet Smart
. He was also around dogs and strangers for the first time today. If you remember, he got his second set of shots yesterday so now we are free to take him out for walks and out in public.
I have to say, he was
REALLY WELL BEHAVED!!
YIPPIE!
I dind't know what to expect so we were pretty happy.
So many dogs were
out of control
with the owners YANKING at their dogs to back off. :nono:
Other peoples dogs were barking at ours but our dog would just back off and come by our feet! :banana:
Our little Victor never barked once.
SOOOOOO many people came over to us saying how cute our little doggy was. They called him a little snowball and such. We were so proud of him.
One of the staff came over and pet the dog and our dog didn't jump up at all.. just wagged his tail a lot and got kind of excited and then rolled on his back!! So she started laughing at him hehehe :rofl1:
And even in line when there was so many people, I was still able to give him a treat and a high 5! He was a bit distracted but always obeyed the sit command. I just show my palm and he sits.
I dont know why he's so well behaved for? :dunno:
He's been NO PROBLEM as a puppy.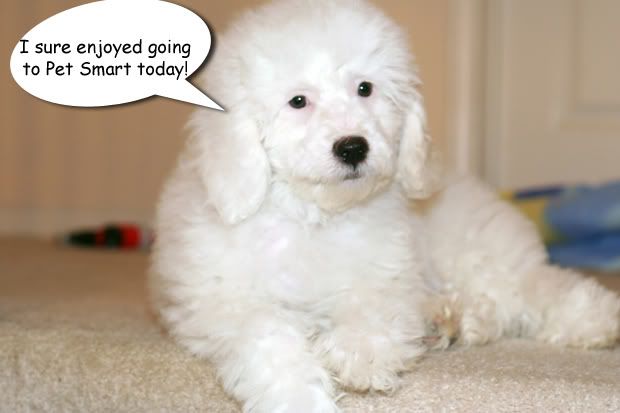 Last edited by a moderator: