Joined

Aug 25, 2006
Messages

5,242
Likes

0
Points

0
Location
Yup, thats right, BELLA!
Okay so here are some Bella pictures...
For those of you who don't know the whole story, I'll tell it to you in short form.
A friend of mine got a "free" GSD. Decided she didn't want her anymore (Tied her outside). I convinced myself I HAD to have her. Friend decided to rehome her. Mom SOMEHOW decided I should have her and said yes.
So, yup, now we've got 6 dogs in the house again, 2 big, 4 small.
She seems to be fitting in well. Really likes Sasha, and is getting a bit better about chasing the cats. It was hard to get pics of her, the dang thing wouldn't stop moving! But I must admit, I got a few cute ones! Sorry if they are different sizes, I tried to keep them all 400 (Width or high, I can't remember) but I was doing that and watching Bella... Sooo, I tried...
My computer was being stupid earlier, so I had to reboot it, which takes a million freaking hours... So, anyway, they're here now!
I'm praying to god this is as big as she freaking gets! She's so big compared to my little Zozo! I'm also praying she'll stop chasing cats, Tink won't be so scared of her, and that I can get her house broken... It'll take work, but for this baby, I'm ready for it!
I'm really hoping I can work out the few small problems we've got, so I can keep her.
....Loading....
"Hi, I'm Bella..."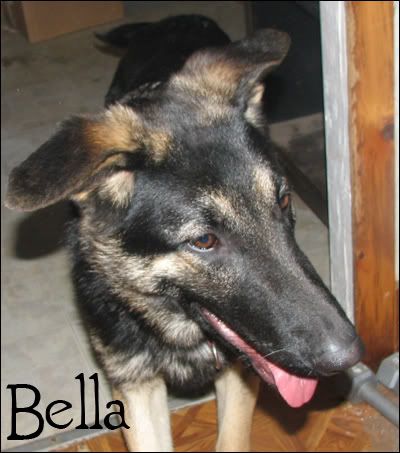 "My motto is... When in full attack, lie down and play dead!"
"Shay... Not ready to call her Mum yet, says this is my 'weapon' what ever that is... I call it my oversized bum flap!"
"See, I can be cute! Can't I?"
***MORE