On Wednesday, there was an ad on Facebook regarding a puppy that someone "found" abd couldn't keep but was very skinny and needed a home, for free. This is the picture:
Naturally I was appalled at the health of this pup. There were 69 replies, everything ranging from "If that's a pit I will take it" to "I will take it but only if it is last resort"....I saw nothing referring to a credable being taking that poor pup. I spent all day texting the girl who posted the ad and trying to get her to be my "bff", she was only 18. Finally she said that I could take the dog.
After run arounds and crazy mixed up stories, was nearly midnight before I got an address. No one was home, they told me to just "pull up and grab him", so I did. Their constant story is that the dog wandered up, it is not there. But there is an investigation, and the truth will be told, because the abuse here is intentional.
I have the pup, here is a video of him after his "spa day" at the vets all day:
On day one, he couldn't eat but maybe a teaspoon of food, today, day three and many medications from the vet, he is eating 1/4 cup of food, 3-4 times a day. He is not dehydrated any longer. He had all his shots, rabies, heartworm negative, he is on a "super-vitamin", another pill to assist his body to absorb nutrients better, hook worm medicine, etc......
He is a polite, gentle boy. My goal was to save his life, he was 24 hours away from dieing. The vet said she could not believe, this far gone, that he could walk...He must have a great immune system, as zero mange has set in at all. He has 3 round, small burns on his side, and was covered with fleas. He is far too fragile to interact with any other dogs. He is in the extra apartment over the garage and I am whooped, traveling back and forth from the main house out there. I alternate my time. But it is worth it. If he heals properly, and passes a temperment test, I have a rescue that is willing to assist finding him a permanant home....IF I can part with him by then. It will be a long process.
This is his poor scared face while at the vets office:
And this is video of him in the yard. He had been out here exploring for about 10 minutes and you can see how his legs were getting tired. 5 minutes after this video, I had to carry him inside, he was too weak already.: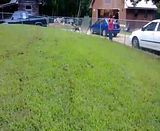 Thanks for looking. Say a prayer for "Sammy" tonite. I think he will be ok, he is a strong hearted puppy. Literally, the vet said his heart sounded GREAT! And, pray we figure out who did this to him, and make them pay.