Hi All, it's Max the Saint Bernard newbie. I really like this site and Mommy has learned alot of stuff too! Well, my dilema all started this afternoon. I am pretty well behaved except for when I am around shoes, especially sneakers. All our guests are warned that if they attempt to wear them in my house, then they are fair game for me. SO my favorite Auntie came over for a while today and wore a brand new pair of white leather nike sneakers. MMmmm! Mommy tried to warn her, but she said she would take her chances. Mommy decided to snap a photo of them so that Auntie would have something to remember them by! I thought I would show all you dogs how delicious they look. They smell yummy!
So while Auntie and Mommy talked, I decided to have a little taste. Well, about 10 minutes later as you can see, my little taste turned into trying to eat them off her feet. She tried to distract me with a stupid squeeky ball, but I DON'T THINK SO, I WANT THOSE NEW SNEAKERS!!!!!!!!!!!!!!!!!!!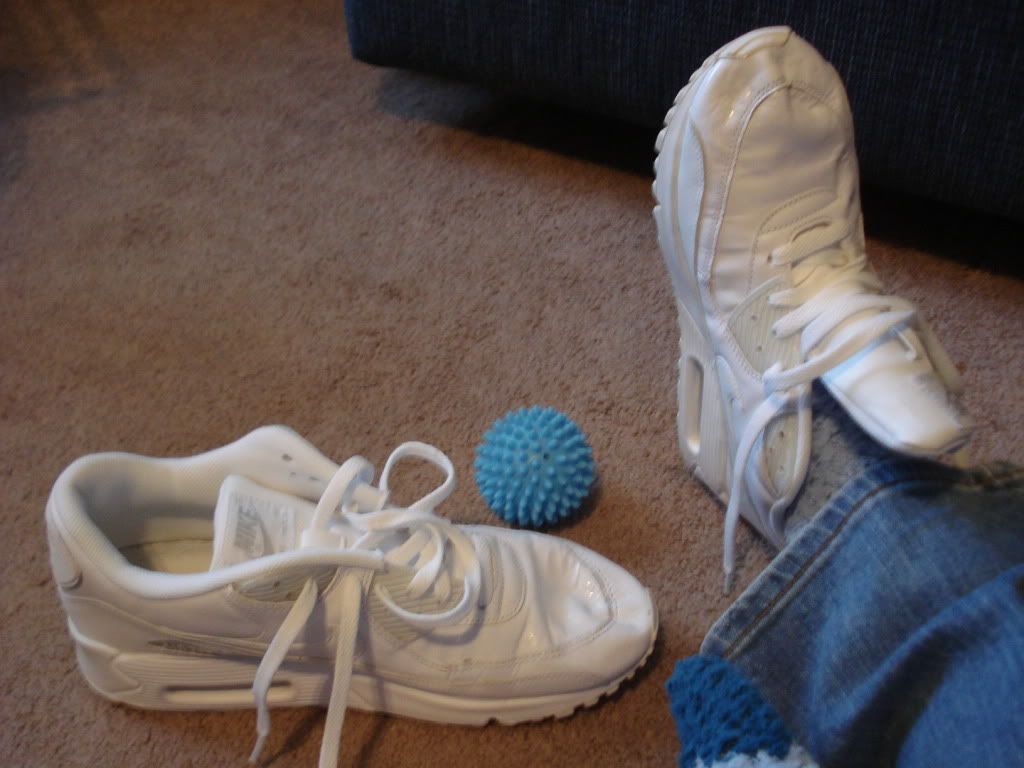 So after wiping the slobber and slime off them, Auntie hid them from me. Well, it didn't take me long to sniff them out under the bed upstairs. She still thinks they are hidden, even though I have them now. Do you think I should eat them up, or give them back to Auntie??? What if I eat them up, and then give them back???? It's now usual that I get to have such delicious new nikes in my house and not have to work too hard to have them. What should I do??????????