Scum scum scum scum..SCUM
Joined

Jul 4, 2006
Messages

2,911
Likes

0
Points

0
Age

39
Location
I miss her so much already..
Ivy was my rat baby.. she was one of my favourites.. always so full of life.. so loving.. always kissing.. always so happy to see me.. even in her last few days..
She left last night while I was holding her in my arms.. I held her for a couple hours.. she was so still.. and her breathing was so shallow.. and even then she kissed me.. I felt her life leave her.. it was so hard.. I want her back.. This is really hitting me hard.. I always miss my ratties when they leave.. they only live a few years.. I've had many and I can't say it's ever easy but I have kind of gotten used to it.. but this is killing me.. I miss her so much. I want to be able to see her sweet face looking lovingly at me from her cage.. waiting for me to take her out to play and cuddle.. Every time I think of her I just start bauling. Last night when she stopped breathing it was like I just didn't want to accept it.. I didn't want to put her down.. I kept waiting for her to look up at me.. kiss me.. something.. I wish she could have been with me longer..
Heres a couple pics of her grooming me.. she would always do that.. lick my hands all over.. then nibble and groom them.. always trying to pull off my finger nails.. thinking they weren't supposed to be there..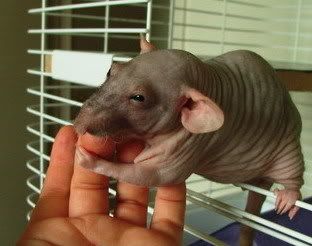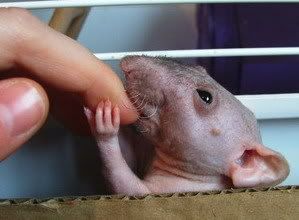 Sitting on the bed.. looking sweet as usual