Joined

May 14, 2006
Messages

5,903
Likes

0
Points

0
Age

31
Location
So... I had the most sad, strange, unreal day EVER.
Me and my friend Grace were taking the dogs to the park. It's a nice park, in a somewhat lower class area. When we were pulling up, we saw a
totally thugged out
, stupid white kid throw a Pit Bull puppy out of his truck and yell at her. We parked, and we were about to yell at the guy until we realized he had tied her to a pole with a string and was taking off. As he was getting in ANOTHER young Pit Bull tied up in the back of his truck, one who was in better condition than the other but not by too much, hung himself on the leash... the guy quickly got out, cursed at him and threw him back in.
At first we were just dumbfounded. What we thought was a very young puppy wasn't even that young, just starving to death. Did this d-bag seriously just leave an emaciated puppy tied to a post? Yes. I saved his license plate number and called Animal Control/Park Police/City Police and no one cared, because it was not an emergency!!!? They all suggested leaving her in the drop box at the shelter (a shelter that boasts a ridiculous kill rate and frequent disease outbreaks). The police department said they would send out the license number and description to officers, but I don't even know if that's true, or if anything will be done.
So... guess what? I am now the foster Mom of the skinniest, sweetest little puppy named Jemima. Surprised?
I think she's about 8 months old, judging by her teeth. She has all of her adult teeth in, and they look very white and new. She is a whopping 16.5 lbs. You can feel EVERY bone in this little girl's body. She has a few scars on her head, a couple of scabs on her muzzle, and a few random (what look like) punctures on her legs and tummy. It is heart-breaking just to look at her, but she has been amazingly sweet, and patient through everything. I can only imagine what she's been through, yet she still craves attention and love from people. She let me give her a bath, and it took a good 10 minutes before the water wasn't brown. She was just so dirty, and covered in dandruff and hair falling out and urine stains. I'm sure she has never had a bath before, and I thought she would be scared and hate me afterwards. But while I was towel drying her she crawled into my lap and rested her head on my shoulder and sighed happily. She even let me clip her nails... which were terribly overgrown and hollow, yes, hollow... probably from malnutrition.
Without further ado, here's about eleventy trillion pictures of Jemima. She is a big ham already.
These were taken on a camera phone where we found her.
So pitiful.
Look at that mug!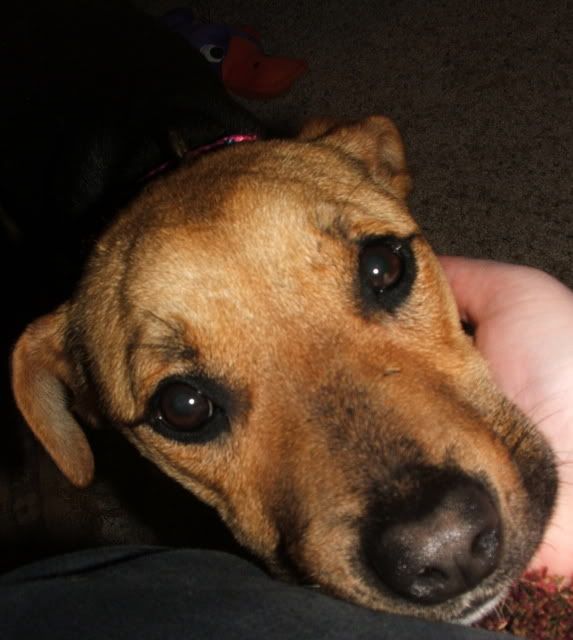 Jemima says "rank rooo"!
She is a total lapdog. : )