My friend's wedding is this weekend and I'm having trouble deciding what to wear. I thought I knew what I was going to wear - but when I pulled it out to try on, it's really more of a short summer-y sundress than a "fall wedding" dress. So I went shopping last night and picked a few things, but I can't decide between them.
HELP. These are really crappy cellphone pics but a) my phone sucks at photos and b) the lighting in this house sucks.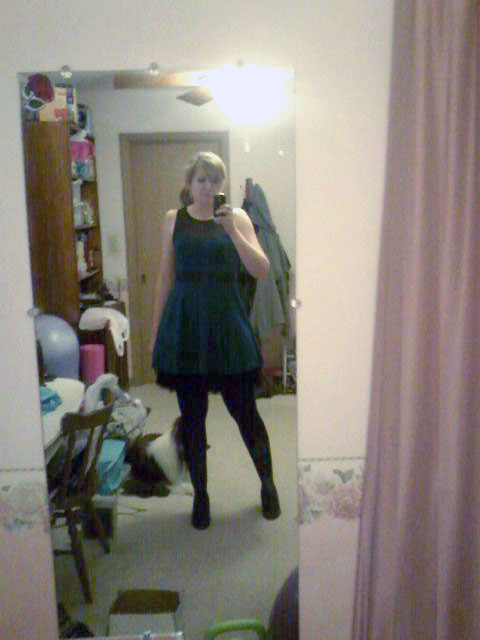 I really like this one but it was kind of short, so I added a crinny underneath to get some extra length. It's still pretty short... probably about the same length as the sundress I was going to wear, but it looks fancier to me.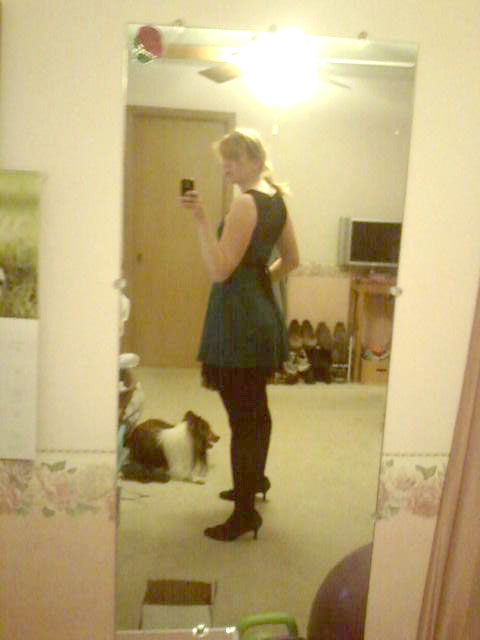 The back, the belt-bow thing actually is from another dress but I think it kind of dresses it up...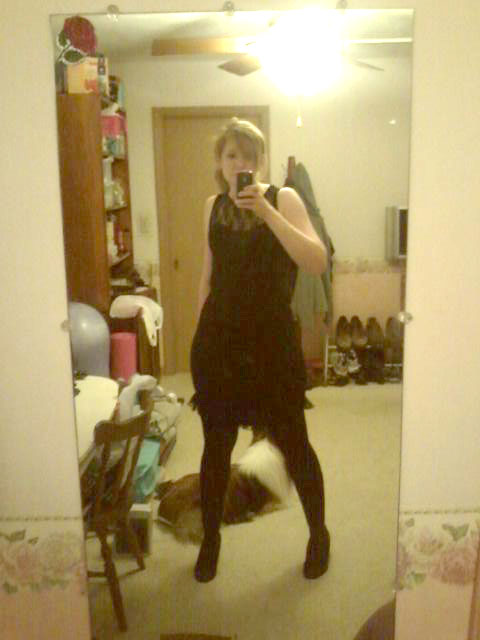 I call this one the sexpot one... when I came out of the fitting room wearing this there was a guy standing by the doorway and his eyes got really big. My mom says this is a lot of black and I think she's right. Works for going out, not a wedding, yes? And again with the crinny to try to add some length even though this one is longer than the last, and make it less BAM SEXY and a little fancy...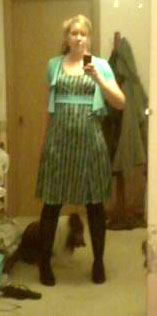 I found this one at Dress Barn. I thought it looked like a nice dress to wear if I worked at a professional-dress-code type of place before. My mom thought it was fine as a wedding dress. It was pretty cheap so I bought it figuring we'd keep looking and I can take it back if I change my mind. It's black & blue with little white stripes if you can't tell...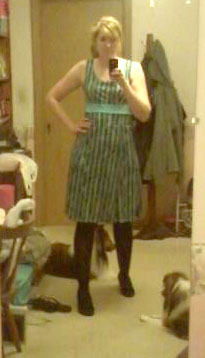 Without the jacket.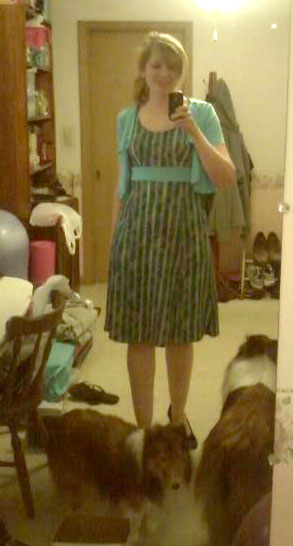 Same but without the stockings, my mom doesn't like it with the stockings for some unexplainable reason.
I can't decide. Also if I wear the last one without the stockings I will have to wear different shoes, because those heels are just slightly too big if I'm not wearing stockings and will give me a blister. My mom asked my dad what he thought and he said "I don't know. The last one is more modest I guess." Which is right. It's... well it's definitely not very sexy. It feels a little frumpy actually.
Hellllllp. This is the best I could find in town and the wedding is Saturday, so I'm kind of out of time. x_x