Joined

Apr 29, 2006
Messages

324
Likes

0
Points

16
Location
Hello everyone. I don't know if anyone remembers me. I'm normally on another forum but at the moment I'm bored so I'm cheating.
Anyway, my life has changed a lot. I haven't been on this board since 2009!
Anyway, I still have my collie Kota but she is living with my mother at the moment. I unfortunately had to give up my cats.
My husband was let go in Dec. We decided to move back to Ohio where we are closer to DH's family. Were living with my MIL at the moment and she doesn't like animals so Kota must stay with my mother for now. Never fear, she's taken care of and gets to play with 5 other dogs.
I also had a baby!
My oldest (Sierra) is 9 yrs old so when I got pregnant in Sept last year I was a bit amazed. But our son (Wyatt) is 2 1/2 months now and doing great. He's a big chunky monkey. I had to have a c/s because he was very big (10.1 lbs) and his shoulders were really wide. I think he'll be a football player like his daddy was in school. Doc said even with the c/s he was a tight fit getting him out. He now weighs 15 lbs. My arms get a workout carrying him around. lol.
Anyway, I don't have very current pictures of Kota. But here's when I was pregnant. I was 32 weeks.
Taking direction from mom. Or not... lol
Thats better.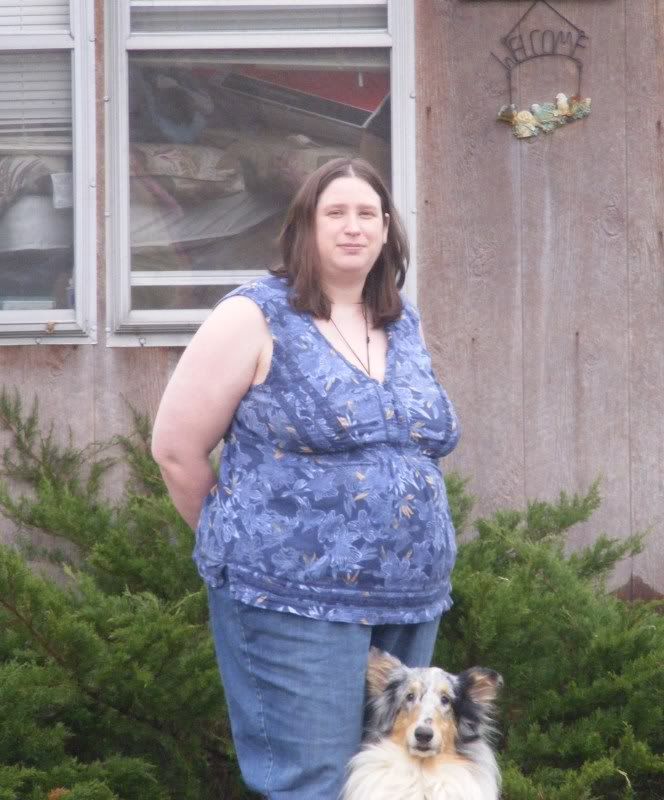 And this was taken yesterday.
Close up of baby.