Hi All, It's Max the crazy Saint Bernard! Just checking in and letting all you dogs in on my fun day! We had some of my family over for a BBQ this afternoon. It's good to see everyone, and I love playing with my Aunts and Uncles, and letting them give me tummy rubs! I have had all kinds of yummy food and am pretty much stuffed. I think I have chased everyone around the yard at some point and am all tuckered out. Probably the best part of the day was that my cuzzin came over and I had not seen her for a while. I think she brought me a yummy treat because on her feet were these!
WOW! I have not tasted a sneaker in a while, and these are new and nike flavored! Well, after some sniffing and licking, I decided they would make a scrumptious dessert for me, especially after all the yummy food I ate earlier. So I decided to not let cuzzin leave my house until I chewed on them. To my surprise, cuzzin decided that because she had not seen me for awhile, and she heard how much I love sneakers, she decided to let me have them!!!!!!! She said that she would be leaving soon, but if I can get them off her feet, then they are all mine! MMMMmmmm!!!!!! Well, not to waste time, I made my attack. They are sooooo delicious and chewy. As you can see, right now I just about have the laces pulled out, and have the toes all chewed and slobbered up.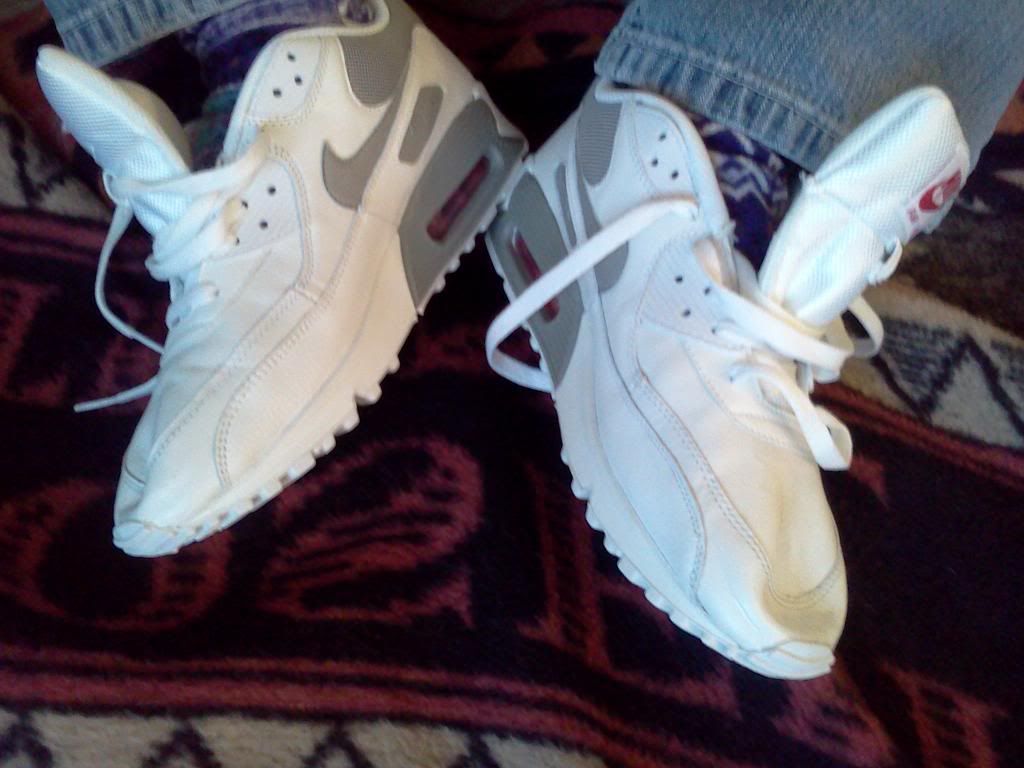 They are stubborn to pull off her feet though. C'mon all you dogs! Help me out. Do you think I can get them off her feet before she leaves for the night!!!??? If I can, you can have a bite with me!!! OK, wish me luck!!!!
Max