Joined

Jul 10, 2007
Messages

110
Likes

0
Points

0
I adopted my Pembroke Welsh Corgi Mix (possibly with a Jack Russell, cant tell but she pretty much looks like a Beagle) at the age of 4 months.
She is very hyper and I feel bad putting her in a crate every time we leave so I'll just let her stay in the patio where she can have more room and be comfortable. But when I come home, I'll see her bed all ripped and the cotton all over the patio floor, the blanket I gave her all ripped to shreds and the slippers all gnawed to bits.
When she's in the house, she never does any of these things and I'm a bit worried that this will be a permanent behavior being that she is 10 months old. This is why I don't let her in the house unattended because I'm worried that what I see in the patio will be what I'll see in my house. She doesn't really listen to me either. When I see her chewing I'll firmly say "NO!" And she will come to me and start licking the finger that I'm using to point at her.
She has a licking problem where if she licks and I say no with a finger pointing at her, she will keep on licking that finger. And sometimes when I'd get up to say No or try to ignore her, she will growl and let out a loud yelp.
Also, when I try to take her for walks, I put the harness on her since I don't use collars (they choke and hurt the dog sometimes) and whenever I put the leash on the harness to walk her, she doesn't follow. She seems to hate the harness and whenever I put it on she tries to run away and when I bring it out she thinks she is going to be punished.
Are there any training methods you guys can chime in to help me train her?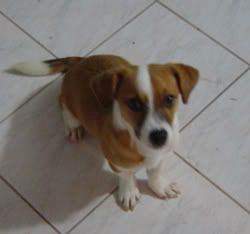 Last edited: