I'm not usually much of a video person (not because I don't like them, but because I don't know how to use my little camera very well anymore!), but here are a few I wanted to post! I've taken quite a few over the last week or so and figured I'd share them with you all.
First, "woo"ing at me. It should have been longer, but it was my first in a long time and I accidentally shut it off too early:
Rolling around like the weirdo she is. She loves to roll on stuff for some reason: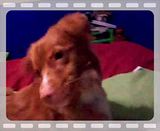 "Bang", and a wave at the end: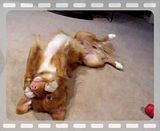 And all three girls running at the park:
That's all!