03-28-2008, 08:04 AM
Active Pup

Join Date: May 2007

Posts: 21
Oreba Rescue Network Group
---
JOIN THE FIGHT THESE LYING ANIMAL RIGHT PEOPLE AND SAVE A LIFE. COME ALL POST HERE http://members7.boardhost.com/OREBARescue LOOK AT INFO OTHER PEOPLE. MAY GOD BLESS OUR SIN.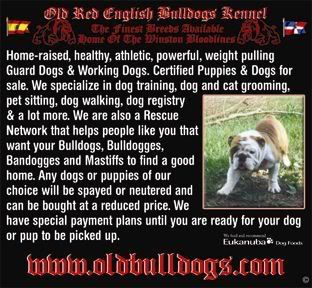 INFO HOW TO GET A PUPPY FROM US. WE DON'T SELL PUPPIES WE ALWAYS DOG A LOT OTHER THINGS IT NOT THAT EASY FOR PEOPLE TO GET A PUPPY FROM US. MAY GOD BLESS US.
Dear Bull Lover,
We appreciate your interest in a Bulldog or Mastiff from Old Red English Bulldogs Kennel, one of the best kennels in the world. We are a licensed Kennel, we have rules for purchasing one of our wonderful dogs. We take comfort and pride in knowing that they are going to good homes. First you need to fill out the Puppy Purchase Contract .We need a copy of your state id card. 3 to 5 references with their address, phone numbers and full name. The name, phone number, and address of your veterinarian.We need you to call us at 843-688-5098 or 347-231-8242.THEN fax us the information asked for above to 843-688-5128. PLEASE CALL FIRST! I need this information from you before I can decide if you are a suitable home for one of our dogs.We just like to know where our babies are going. Thank you for your interest in the best kennel in the world. Our puppies are great working dogs or pets.The Guarantee & Prices are at the bottom of the page. Thank you for your time and interest, hope to hear from you soon. Yes we have puppies right now. We take all credit card if you want to use your credit we need litter fax with your picture ID.
Sincerely
Old Red English Bulldogs Kennel Inc.
The Finest Breeds Available
Home Of the Imported Bloodlines
Home Of The Winston Bloodlines
Office: 843-688-5098
Office: 347-231-8242
Fax: 843-688- 5128
http://www.oldbulldogs.com
http://www.orebaregistry.com

---
Last edited by Renee750il; 03-28-2008 at

08:39 AM

.