Another weird (annoying) thing he's doing
---
He's going to drive me nuts.

Every time Milo's on the bed (or now he's doing it on the couch), he'll hang his head and front paws over and STARE at the floor, for hours. Sometimes he picks his butt up like in a play bow, but it's just to give him more leverage to hang off the bed. He'll dig at the sheets on the side with his paws and whine. I'll put him on the floor but he just jumps back up. There is NOTHING there. He doesn't want to jump down to look, he jsut wants to hang there. It's bizarre. I've started telling him "no" but once he starts it's like he's mezmerized. I have to yell or make a funny noise to get him to stop. He'll stop if i go outside or feed him or something, but other than that, nothing makes him stop. Even if i shake a toy he'll ignore it. Now when i hold him or pet him on the bed he wiggles away to go to the edge and stare at the floor.

Why is he doing this? I could probably get him to stop pretty easily, but i'd like to know why.
__________________
"My favorite color is green, green like newly cut grass. When it comes to green with envy, though, you can stick it up your @ss!" ~ Grammy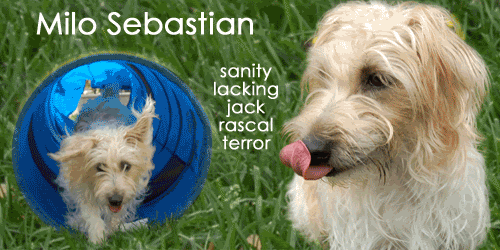 http://www.adorablebeasts.blogspot.com