---
Thank you! All really good stuff to think about. I think I need to break it down and focus more on precision and details in very short increments. I was sort of rewarding anything resembling a heel, and hoping to perfect it over time, but we're kind of stuck and it's not getting better. I definitely fall into the trap of rewarding crap.

I've started throwing rewards lately, after a show handling seminar showed me how much engagement it can build to toss treats out in front, or at the dog's head (whether they can catch or not). Also, if I throw it out in front of me in grass it gives him a chance to use his nose to find it, which is by far his most favorite activity. I haven't been trying it long enough to see if it's working, but I think it's tapping into what he finds rewarding.

Environment is so tough for us. He's so engaged inside in our normal training environment, but I lose him to self-rewarding by sniffing outside or in training class. I just started using "go sniff" as a reward, like the "give me a break" exercise in Control Unleashed, and it might be working. By the end of class on Monday he was sniffing quickly, and then staring daggers at me wanting to do more work, instead of me harassing him to get his attention off the floor.
__________________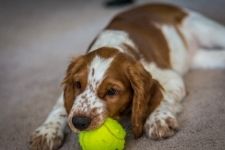 Watson - Ch. Truepenny Olympic Triumph RN CGC | Welsh Springer Spaniel | DOB 8.2.12
Hazel - Truepenny Bright Side of Life | Welsh Springer Spaniel | DOB 4.2.15