---
There are many different types and causes of aggression in dogs....and each of them will need a different approach to fix. I suggest, if possible, you hire a trainer who uses positive reinforcement based training methods in order to help you.

The first thing you need to do is prevent the dogs from fighting, at all. This may mean entirely separating them at all times, or only allowing them to spend time together during leashed walks. ANY time the dog acts aggressively, he is very upset and aroused at the situation and that is going to cause him to be triggered by the other dog's presence more and more in the future.

How old are your dogs?
How long have they lived in the same household?
Are they neutered?
Have their been any big changes, such as moving house, adding a new pet, new baby, someone in the family starting a job, changes in the dog's exercise routines, or someone using new training techniques on them?
Do they attempt to fight each time they see each other, or are the fights either apparently spontaneous or do they have a trigger (such as food, your sheepdog barking, or the dog trying to protect someone in the family?)
Have you taken the lab to the vet for a full checkup and bloodwork, to be sure something physical isn't causing his aggression? (Pain due to an injury or illness, brain tumors, seizures, even something such as an ear infection can cause aggression).
__________________
"My favorite color is green, green like newly cut grass. When it comes to green with envy, though, you can stick it up your @ss!" ~ Grammy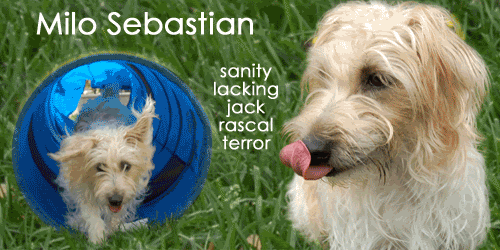 http://www.adorablebeasts.blogspot.com