We had a cool front blow through yesterday, and yesterday evening, the temperature starting dropping pretty quick (the high yesterday was only 66!!!). It was sooo wonderful outside! Well, I happened to see something streak by while looking out the kitchen window, so I walked out the back door to see what was going on. I found this: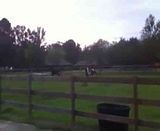 Raja says, "WEEEEEEEEEEEEEE!!"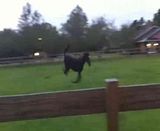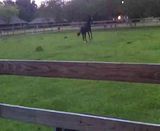 You can hear Cooper trying to call Bullseye over to him on this one: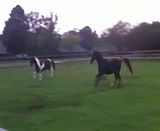 ***btw, all that heavy breathing and snorting you hear is NOT me. it's Raja and the Beastie.