06-29-2012, 10:51 AM
Chihuahua Power!

Join Date: Oct 2006

Location: Central Florida

Posts: 19,665
Someone needs these Border Collies!
---
I mean, how cute are these two?!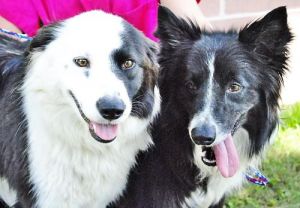 Quote:
Hello. I am Buddy and this is my friend Angel. She is a little bit shy, so I do all the talking. We are Border collies. You could probably tell that just from looking at our pictures. We are both black and white with thick, fluffy coats. You can tell us apart by looking at our faces. Mine has more black on it and Angel's face has more white. I am seven years old and Angel is four years old. We have been together for four years. We have all of our vaccinations, we are heartworm negative, we have microchips, and we have both been altered. We would really like to be adopted together, because we are such good friends. We help each other out. Whoever adopts us needs to know that we are working dogs, so we need lots of activity and fun time with the family. Our yard needs to have a privacy fence to keep us safe, but please don't leave us out for hours at a time because we will get bored. Oh there is one more thing you may need to know about me. I am afraid of thunder so if there is a storm I need to be near you. We are keeping our paws crossed that we will find a home together.
http://www.petfinder.com/petdetail/23107278
__________________
L to R: Chloe, Rylie, Emma, Tucker, and Rory
My Blog- Chihuahuas are not Sheep