The Deadly Crew
---
Rocket and Noodle are sleeping next to each other on the bed.....and Noodle is only just a little bigger than Rocket's HEAD.

His breeder says that's great news! I, however, have taken this opportunity to christen his head "U.S. Rocket Launcher" AKA Battleship.

The battleship destroys it's enemies by flailing wildly at faces, running into walls, chewing stuffies to death, and snapping madly at running water and treats in the air. The battleship is also stealthy, planting it's bow into your butt or hand, dripping with water and drool. It can also loudly announce it's arrival by grunting, yelping, groaning, or growling very similar to it's counterpart, the "U.S. Three Pronged Attack" a warship who's mystical powers of persuasion, communication, bird-snatching-in-mid-air, and rabbit killing are second to none. Their spy, the submarine "U.S. Sniffy McSmellerson" is capable of sniffing out her target from over 200 yards and delivering a blow precisely on her target's nose, crippling them for minutes. Finally, their tiny but deadly assassin, the "U.S. Iron Gut" will deliver a slow, excruciating death by eating all the food in the world and stealing all the blankets. If you're lucky, she'll kill you quickly by delivering a kiss of death on your tongue.

Together, they are the greatest force I have ever encountered. It will take all of my strength to survive.
__________________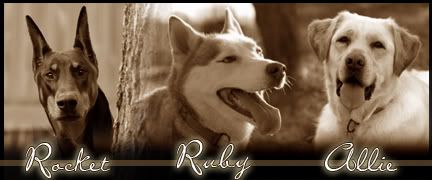 U-CH Rocket - BN RN CAA TT CGC TDI
Ruby - CD RA CGC
MBIMBS U-CH Poison
Allie the Lab
Noodle the Mini Dach