Becca, I MET A BABY ELLA!
---
so yesterday i was out christmas shopping with my grandma. she was tired from all the stores but i needed to run into petco to grab a jolly ball for milo (which of course they didn't have) so she stayed in the car.

i went inside and i saw a table with some anti BSL/anti-dogfighting/anti-petstores/anti-backyard breeding/etc, stickers, and a pen with a little pittie pup (probably 4 months) in it.

It was a rescue that had just branched off from a shelter, and they were fostering a bunch of dogs, and had come to petco for publicity/so people could meet the dogs/etc.

i convinced myself "grandma's in the car, CAN NOT stop and pet puppies". But as i walked past the puppy pens, i see a little black pupper curled up fast asleep, and he's got ELLA'S EARS. like, spitting image Ella ears.

so i'm standing there, debating on waking him up, just staring at him, and the rescue lady comes over and wakes him up (he did NOT want to wake up), he looks at me, and he is a miniature Ella. he looked JUST like her. Ella's doppleganger.

I held him, and he tucked his nose under my armpit and fell asleep. i held him for like a half hour while i talked about Milo to the rescue lady. She offered come insight on his aggression, etc. i so did NOT want to leave him there.

Finally, i dragged myself away from little Mr. Ella.
__________________
"My favorite color is green, green like newly cut grass. When it comes to green with envy, though, you can stick it up your @ss!" ~ Grammy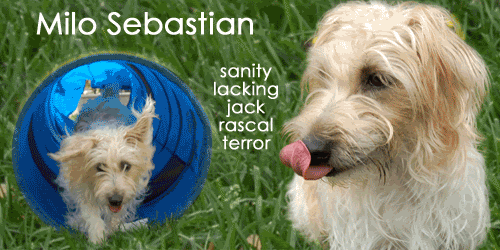 http://www.adorablebeasts.blogspot.com