When Boris and Tips play, here is what happens. Boris jumps around Tips, lies down, tail wagging. Tips sometimes goes to smell him, sometimes ignores him. Then Boris pushes Tips a bit with his paw, slobbers all over him (I should take a picture of Tips after that, lol), and pushes him around a bit. Tips go on his back, lets Boris smell him... After a while he gets irritated, and starts trying to nip at him when Boris keeps pushing him. Boris jumps away, still wagging his tail, tries to nip him too, then start pushing him again.
Boris is mostly gentle, but I'm worried he will hurt Tips (who is much smaller than him, as you can see)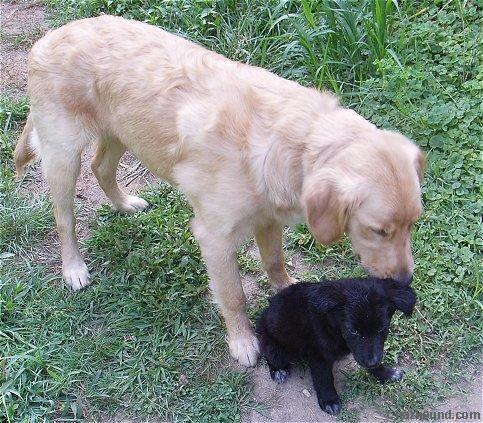 He often goes over him, and kind of nibble his fur etc. It's mostly when he pushes him around that I'm worried, and when he starts nipping (I know how his nips can hurt).
Is this normal? Is it normal for Tips to try to nip at Boris? And for Boris to push Tips around as he does? The poor thing can't do much except trying to nip, and I don't know if he's really annoyed or playing too... He still has lots of patience though.
Other than that, they smell each other a lot when Tips is in the crate etc.