---
I don't think any dog should be super popular, but in terms of 'breeds I can't believe more people don't like', hmmmm...possibly greyhounds, or the other breeds of sighthound. I live in an area that has quite a few greyhound breeders because greyhound racing is popular around here but it's not often that you see them as pets. Despite the big push by greyhound adoption agencies here to get people to take them on. I think that's a real shame.
You also don't see a lot of other sighthound around here either.

But, I think I'd hate for them to suddenly get really popular and end up in petshops. I saw whippets in a pet shop once and it made me feel ill. But then again, I get a general feeling of unwell around petshops.

Cass.
__________________
I've been frosted!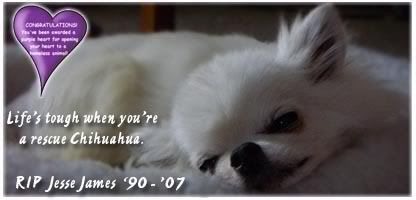 Say NO to animals in pet shops! Rescue a friend instead.
"Raise them to be gentle and they will be gentle. Raise them to be vicious, and they will be vicious.
Problems lie not in the breed, but in the people."
- Dr. Carl Semenic