Background of 99: male, desex, 6-month-old, feeding Innova Puppy
History of 99: He was mistakenly fed with a bad quality commercial dry food, which was promoted by the pet shop, until 4.5-month-old. His coat at that time was weak, dull and thin. I therefore immediately shifted to Innova Puppy. After that, I found much improvement on his coat in 1.5-month time. I also saw some short, shinny, darker and thicker coat growing out. Thanks god.
Here is a pic taken last night: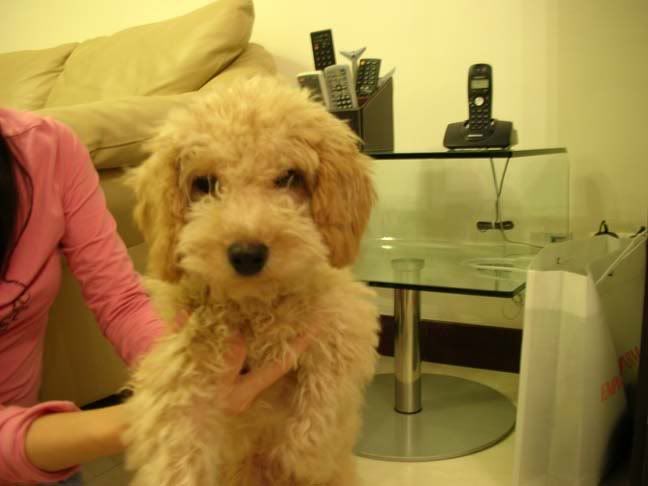 As you can see from the photo above, his coat is still weak and not thick enough comparing to this:
All my friends told me to clip out all his coat, then the new one will become thicker and stronger. I do not believe in that and I cannot accpet his odd look when all his hair is gone.
I assume that his coat will become strong when he grows up. But I would like to know if ther is any supplement which is useful and without side effect to facilitate the improvement. I was told that some coat improving agents which is usually used on show dogs are unhealthy. I am currently feeding 99 with NaturVet Kelp Help which is also recommended by the pet shop and therefore I have to suspect that it is a good one. I fed him with 1/2 spoon per meal, two meal per day.
Ingredients:
Dried Norwegian Kelp, Ground Flax Seed, Processed Grain By-Products, Dicalcium Phosphate, Dried Beef Liver, Mixed Tocopherols (natural preservatives), Ferrous Carbonate, Choline Chloride, Vitamin E Acetate (d-Alpha Tocopheryl), Vitamin A Acetate, Niacin, Cholecalciferol (source of Vitamin D-3), Zinc Sulfate, Riboflavin, Copper Carbonate, Cyanocobalamin (Vitamin B-12), Silica Aerogel, Vegetable Oil, Citric Acid, Ascorbic Acid, Lecithin and Rosemary Extract.
Now the NuturVet is almost finished and I am thinking of others. Any recommendation to improve 99's coat in a healthy way? Any product recommended? Or any elements/ vitamins I should looking for?
BTW, are supplements actually required for a healthy dog fed with a quality dry food?
Tks alot...