...because Duke is just sprotuing like a weed!!! He turned 6 months old yesterday and currently weighs 47 pounds and is 22-23inchs measuring from the ground up his front leg to his shoulder!
Training and everything else has gone wonderfully and I still can't believe what a focused puppy I have. He graduated puppy school at 3 months of age and is now going back to basic obidence next week. Originally I only planned on doing basic obidence and then starting agility; however considering he just loooves to work in ever sense of the word i've decided to do all three levels of obidence with him as well as agility.
At home he's wonderful with all of my other pets and adoores our two cats even though they hate him and try and kill him any time he walks by. Max our big alpha cat can walk up to him when he's eating and Duke will look over and run to the living room and lie down with his head on the ground submissively until max finish's sniffing his food. He also enjoys watching all of the reptiles in their cages and I occasionally bring them out for him to sniff ( he's always kept on harness and lesh just incase) and he cocks his head to one side while wagging his tail as if to say, "thats one wierd looking dog".
I have been bringing him to puppy socalization classes for the last 3 months and have seen wonderful improvement in his temperment around other dogs. He's now much more calm around most dogs and went from growling whenever other puppies at the class ( especially the labs because their so silly) would try and jump on him or lick his face, to actually meeting other dogs on his own and sniffing them and then he likes to walk around with them for ahwile and then he wanders off especially the larger ones ( even though he outgrew all of the other puppies a month ago) . He dosen't really try and play with them not in the sense that I see most dogs play but I can just tell by his body langauge his much more relaxed and at ease, he just dosen't have much intrest in them.
It's a little odd I suppose as all of the other puppies look like their having so much fun and he just dosen't want to partake in it, but I guess it's ok because he has lots of fun with me and his one best dog friend that he actually plays with that belongs to my best friend so it works out.
Here's a little photo chain of Duke from age 9 weeks up until now so everyone can see what I'm talking about his ridiculous speedy growth
Age: 9 weeks old, Weight: 14.5 pounds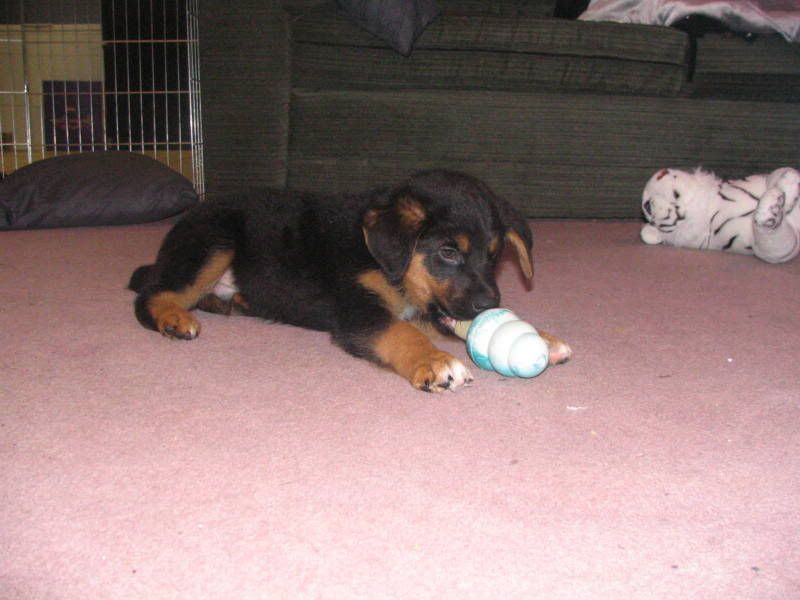 Age: 11-12 weeks old, Weight: 26lbs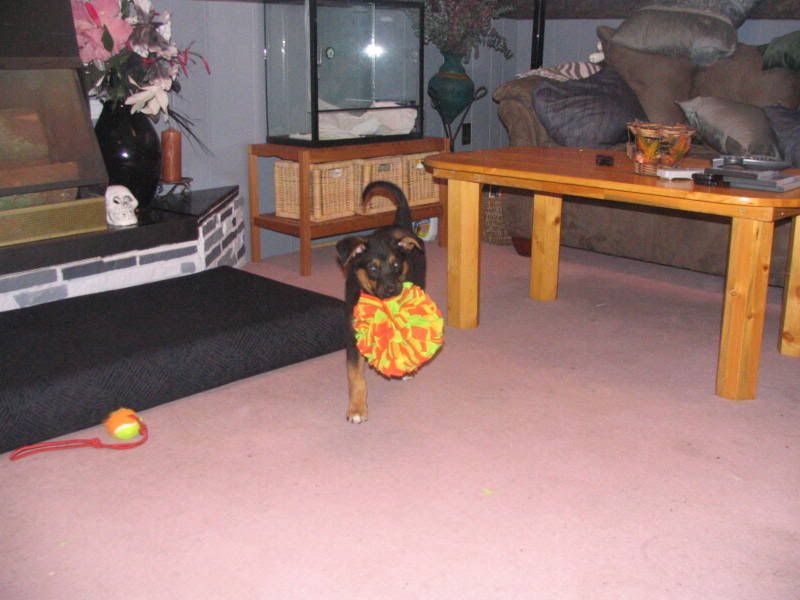 Age: 16 weeks old, Weight:35-36lbs ( yes he actually had a 9-10lb growth spurt in the period of 5 weeks)
__________________
Live. Laugh. Throw a Ball
Duke- 8 & a half year old awesome man (Shep Cross)
Maverick- 5 year old Border Collie *Exercise Maniac*
Odie- 5 year old Elkhound *Ball of Cute*
Teeka- 10 month old Long Haired German Shepherd- Mavericks new best friend