Here are the three nightmares that wreak havoc upon my home and keep me awake all night....not that I'd have it any other way (wink)
Spot:
Eddie:
Sam:
And the three amigos together: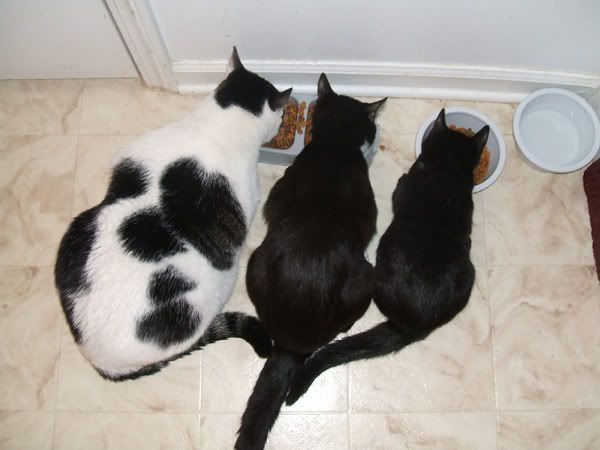 Now, a little about all three -
Spottie was adopted from a no kill animal shelter when he was about 8 months old. He had been there since he was 5 weeks old!!! He and his siblings were found in a Food Lion parking lot, in a cardboard box. Spot's original shelter name was Food Lion #1. Spot owns me, I swear this cat could get anything he wanted out of me. He is so affectionate, and loves everyone - he's like a dog in a cat body. I can't believe he was in a shelter for all that time.
Eddie was abandoned in my apartment complex. His "owners" were evicted and asked me if I would watch him for a night until they got settled in to their new place and then they'd come get him. Right. He's been here for about 6 months. He's a pretty cranky cat, semi-feral..not affectionate at all unless it's feeding time...but he's sweet in his own ways.
Sam was found when he was a microscopic little speck. He was trying to escape animal control, who was trapping his mother and siblings, and he ventured dangerously close to the highway. Luckily, a neighbor found him before he was hit and brought him to me. He was about 3-4 weeks old, dangerously ill and near death. Many sleepless nights, lots of medication and care later, and he's a healthy, GORGEOUS kitty. He does have a congenital defect which affects his rear legs. His legs are bowlegged and he walks funny - hence his full name "Yosemite Sam".
We also have a stray hanging around that will probably end up living here as well, not that I can afford another animal right now. She's a beautiful tortieshell and she's sweet as can be. She showed up during a very harsh storm and hasn't left!