---
Awww....thankyou for all the kind words!!

Lucy is a little unsure of the hair dryer which might be why she stays close. Its the same with the vaccuum cleaner - she doesnt like it, but keeps it close enough to 'attack' it if she needs to!

She is very intelligent but we're having some real trouble training her to walk on the leash at the moment and nothing I've done in the last year seems to have worked. I will put a post up about that later though because I'm in desperate need of some help!!
__________________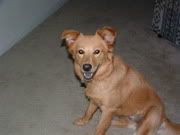 Lucy
~ My Blog ~