---
What are they like?
They are sweet, fun, happy dogs who love their people (velcro!).

Health?
Generally healthy. Hips and elbows should be tested. Glaucoma should be tested for, though it doesn't seem to be an issue in US dogs for the most part. Thyroid should be tested. Allergies are around, though the dogs I've seen have been pretty mild (mine has seasonal allergies which make him chew his paws). HD is present but also pretty mild - most dogs who xray positive live a mostly pain free life.

Lifespan?
12-15 years

Activity levels?
Fairly high. IME they don't need a ridiculous amount of exercise, but it does need to be consistent and they are active and bouncy by nature. They settle pretty well in the house. My own dog is fine with a 30-60min on leash walk most days, but if he doesn't get it he can start pacing and looking for trouble. The adolescent males especially can be kind of wild when overstimulated out in public, but most mature into calmer and more easy going dogs.

Similarity to other spaniels?
They are usually a bit toned down energy-wise compared to field bred ESS (and brittanies, though they are technically pointers and not spaniels). They tend to be more reserved with strangers than most other spaniels. They do have the same fun loving personality. They don't seem to have the aggression issues present in some lines of other spaniels.

Do they traditionally work away from you/independently?
Bit of a mix. They are generally considered more independent workers than ESS and ECS, but they work closer than the pointers. They tend to be velcro dogs and some don't like to work independently away from their people, while others have no issue with it. As flushing spaniels they really shouldn't be working so far away that you couldn't shoot a bird they flushed.

Temperament/personality? Differences between sexes?
They are sweet and happy dogs. Generally tolerant of kids and other dogs. They are velcro and love their people - they want to be near you and preferably on your lap. Some have mild SA issues because of this temperament and might cry/bark if they can't follow you. They are generally reserved with strangers, and some come across as timid or shy. Timid dogs are not correct, but you see them out there more than I'd like. My own dog was all over people as a puppy, but as he's matured he has become more reserved. He still likes to meet people and get pets and attention, but now he will ignore people until it's obvious they want to greet him, instead of throwing himself at everyone who passes by. They are usually good watch dogs who will bark at somebody approaching the house, but then accept them as friends after a minute.

IME males and females are pretty different, in a typical sporting dog way. The boys are silly, exuberant, and active, while the girls are sweet, and more reserved. Both are snuggly and attached to their people. Girls mature faster.

What are the grooming requirements?
Depends how well you want to groom them. I bathe mine about every 6-8 weeks and do some quick grooming in between. A pet trim takes me about 20min, while grooming for a show takes a little over an hour. Basically, you need scissors and thinning shears to trim feet, the tops of the ears, and the tail. Most people use clippers to do under the neck and the ears, though you could do a quick job with thinning shears there too. A show groom isn't much more complicated, I'm just a lot more careful about making it look polished and perfect. I don't have experience with a spay coat, which is usually thicker and woolier, but an intact dog will have a self-cleaning coat that doesn't mat and doesn't pick up every single leaf in your yard. They can be covered in mud and once dry, it falls off and they look clean again. I brush my dog once a week or less so it's really not that much work on a daily basis.

Any other quirks or breed info?
Shyness is an issue in the breed, so meet dogs the breeder has produced and their relatives. If you can find a dog show that will have a reasonable number entered, you will probably see a lot of dogs from similar breeding (cousins, aunts and uncles, etc). Many are owner handled, so there will be people who can tell you about their dogs and the breed.

They do have hunting instincts, so prey drive outside is typically high. Expect them to want to follow their noses to find birds or small furry animals, though they should keep an eye on you while they're hunting and not just run off into the next county. They are generally ok with small furry animals in the house, though tend to get excited by them. My own dog is terrified of the only cat he knows because it's a big confident cat who doesn't run away. I'm sure he would chase a nervous cat who ran away from him though.
__________________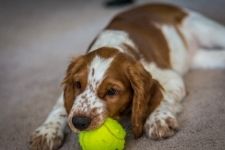 Watson - Ch. Truepenny Olympic Triumph RN CGC | Welsh Springer Spaniel | DOB 8.2.12
Hazel - Truepenny Bright Side of Life | Welsh Springer Spaniel | DOB 4.2.15