---
My ideal is 3-5 years. Watson will be 2 next summer and I definitely can't imagine adding another just yet. If my dogs were "just pets" 2 years would probably be fine (he's a great pet and mostly calm and well behaved in the house at this point), but I love training and going to classes and seminars with him and I just don't have the time/energy/money to do that with two dogs. Once he is older and more "trained" (like, out of the foundation work and actively trialing in something) and has finished his conformation championship, I'll consider a second. Not sure if I'd ever consider a 3rd, but a 10 year old, 5 year old, and puppy wouldn't be a bad mix.

Welshies are also slow to mature, so that factors in. With a fast maturing breed/dog, my age window might be smaller.

In real life, the biggest factor will be human kids, honestly. I don't want Watson and a youngster when we have a baby, but that might mean that he's 7+ when we're ready to add a puppy, which is older than my ideal.
__________________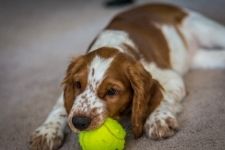 Watson - Ch. Truepenny Olympic Triumph RN CGC | Welsh Springer Spaniel | DOB 8.2.12
Hazel - Truepenny Bright Side of Life | Welsh Springer Spaniel | DOB 4.2.15