Wow, I haven't joined a new forum in years. I haven't been on an all-breed forum in even more years, although the pit bull forum I have been on for the last 10 years does have a fairly diverse group. It's getting a bit slow, so I'm looking for a little more action. I am excited to see some familiar faces (names?) over here though.
Most importantly, I'll introduce the canine members of my little family: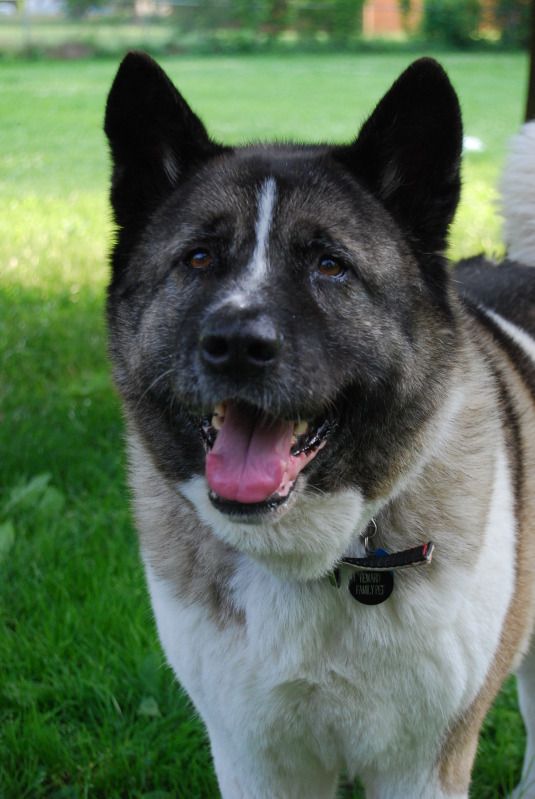 Bogart was estimated to be 5 when I got him from the dog pound (really, truly called the dog pound) 6 years ago, but I'm not sure if he seems like an 11yo dog, especially an 11yo large dog. I saw his picture on Petfinder while I was still in a dog-free apartment, but a rescue I did volunteer grooming for said they would keep him til I moved into my house, so I drove out of state in a snowstorm and brought him home. He's a great dog, although he ruined all the grand ideas I had of Akitas for all the years I obsessed over them: he's overly friendly, not the least bit dignified, reserved, or quiet. He also bays like a hound, kind of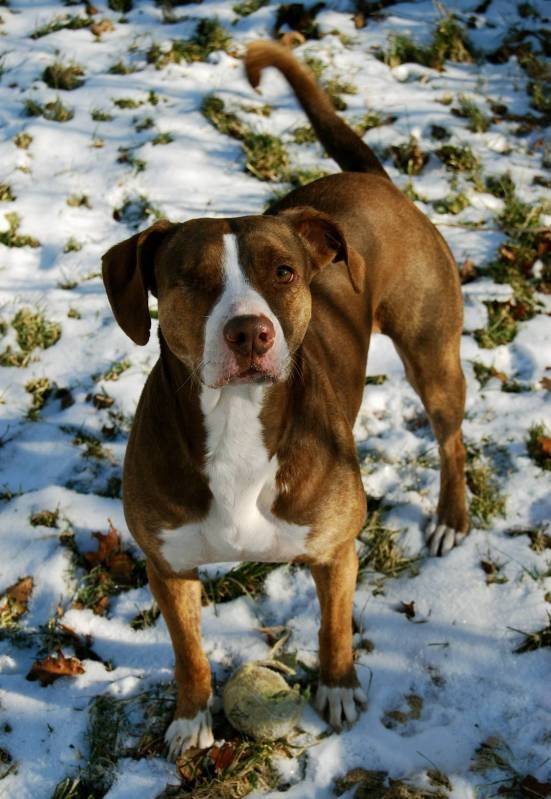 Josie was at my local animal control facility (aka dungeon) with an ulcerated eye, which was not going to be treated. Despite the pain she must have been in, I saw the joy and hope take over when a family with kids walked by, and my heart broke. I couldn't leave her there to be euthanized, so when her stray hold was up, I went and picked up her bony, swollen-faced self. She felt a lot better after her eye was removed. She's a fun, fast dog that worms her way into everyone's heart who gets to know her (though she tends to be overlooked if I am walking her with my flashier Akita). She can kind of fly, but she can't quite catch anything.
Manfred, aka Manny, is my foster dog while he undergoes heartworm treatment - probably through the winter for sure. He and two other pit bulls came into rescue when police found them chained and emaciated at a murder scene (did you notice I'm from the nation's most dangerous city lol). I lost my 14yo pit bull in May and have really missed having a pit bull in the house (nothing against my mix, mind you). Manny has to take it easy for the next couple months, so he's just my speed. If anything, I was looking for a senior citizen, but his activity limitations made him a good fit for now. He gets along well with Josie and the kitties, but his lack of manners prevent me from bringing Bogart into the equation, and I expect it will stay that way.
Me, I am a dog groomer with a BA from a big university lol. After school, I skipped the career assistance and focused all my attention on an internship at a big cat refuge in Arkansas - which paid off, was the most amazing experience of my life, and which I will never regret. I was unable to make use of my English degree, and I stumbled into a job as a groomer - 9 years ago (in a month). Right now, I am looking into dog training independently. I'd like to foster a dog in need of training and work with them to help them not only find a home but stay there.
I tend to be a stray magnet and have a few too many cats because of it (I've managed to find homes or - once in a while - rescues for most of them; the ones I have are the rejects
). I also have a large flight cage with finches and canaries. They all dominate my time, but I do volunteer my time grooming for local rescues and random other projects (like responding to a 911 call about a dog hit by a car). I don't talk much, and I talk about myself even less, so I've hit a dead end. Looking forward to having yet one more source of online addiction here...