Hello there,
I've found my way here through a random search on trying to stifle my curiosity about a training device for my mothers dog. But I'll get into that later. I currently personally own one dog, a 9 year old quarter rottweiler mix that looks remarkably a lot like a larger version of a border collie or a english shepherd, named Lightning. Right down to the herding aspect. Since I have moved back to home, my dog and me have gotten into the mix of helping to train my mothers rottweiler puppy who is 18 months old who is named Bofa.
I have been around dogs for close to 20 years. My first dog being Lightnings mother. It was through her I got the interest in training dogs. I've researched several different ways and tried them each out. I know there are those that don't agree with dog trainers such as Cesar Milan but my dog Lightning is partially trained in his way. In others just as I could find that fit him. It wasn't easy learning to control a herding drive other than putting a weighted back pack on him and a halti which worked wonders to slow him down on walks with my mothers previous rottweiler Joker.
But enough rambling for now its a pleasure to be here and hopefully I'll learn something new that will help me in furthering the training of my dog or my mothers as she is lax in such a department and annoying me with how wild her dog seems next to mine.
This is Lightning can't seem to get any other look on him but this one when taking pictures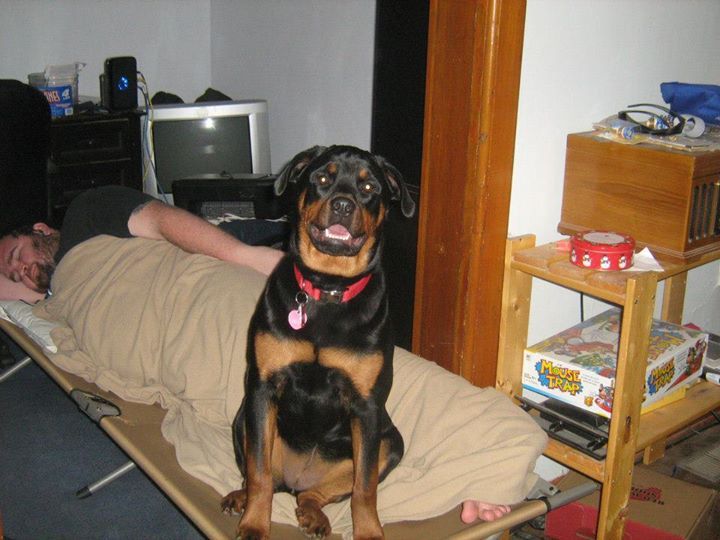 This is Bofa, its slightly older and stills shows quite a bit of puppy in her thats all but gone now. (Also shows her trying to sneak up to lay with my older brother who was over for a few days)