Breed suggestions!
---
While going back through older posts, I've noticed a lot of "pick a breed for me" threads and they're a lot of fun. I'm bored and I've never started a thread like this, so I'm going to give it a try. Some of you know me reasonably well from another forum, and some of you don't really know me at all, so I figure I'll get some good suggestions. Let me know if you need any more info.


Here's what I'm looking for:
- size: medium-ish, 20-80lbs

- coat/shedding: I'm drawn to medium length coats, with or without feathering. I would consider a short coat. I'm not interested in anything super-sheddy or fluffy, but can deal with most medium shedding breeds. Can do some grooming, but nothing extensive (like a poodle) that would require a professional.

- energy level: medium to medium-high? I wouldn't call my current dog high energy, but he's higher energy and drive than most pet dogs I know and it seems like a good level for me. I don't want a dog who needs hours of exercise every day, but I can do ~1 hour of off leash running/walking every day, plus some indoor training and fetch. I'm doing about 2 classes per week with my dog as well. Super busy dogs drive me batty, so an off switch in the house is important.

- biddability: medium-high. I at least need a dog who is easily motivated (by food or toys) and interested in working with me. I like dabbling in different dog sports (obedience/rally/agility/nosework) and want a dog who wants to do things with me. Some amount of off leash reliability is important, since I have 9 acres with no fence and it's more fun if the dog can have some freedom when we're outside.

- "easy" stable temperament: I can socialize a lot, and deal with mild reactivity, but I don't want a dog prone to DA or severe reactivity. It doesn't have to be a "dog park dog", but it should be reasonably friendly with other dogs. I'm ok with any level of friendliness towards strangers as long as it's not timid or HA. General spookiness about noises/people/environment is a negative. A dog who can go anywhere and try anything is my ideal.

- misc: I have two rabbits, so something that isn't going to charge through a baby gate and eat them is preferable. It doesn't need to be loose with them, but it needs to be able to co-exist in the same house without losing its mind.



ETA: Apparently my brain wasn't working when I picked a sub-forum for this thread. Hopefully the mods can move it for me!
__________________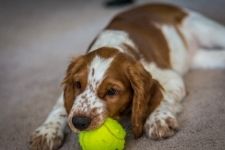 Watson - Ch. Truepenny Olympic Triumph RN CGC | Welsh Springer Spaniel | DOB 8.2.12
Hazel - Truepenny Bright Side of Life | Welsh Springer Spaniel | DOB 4.2.15
---
Last edited by Elrohwen; 10-31-2013 at

04:21 PM

.