Quote:
Originally Posted by
crazedACD
I was looking at this too, there are virtually no ACDs being shown up here :/. There IS a Facebook group for building majors in my breed, everyone tries to attend the same show, which I would have to utilize if I wanted to finish (unless I managed to win groups).
I just found the FB group for my breed and it's awesome (previously I relied on my breeder to tell me which shows to attend). I was so close to getting both majors done at our last show, but it looks like there might be some more in November.
I do still think a rare breed is easier, as long as you can find some competition. Many dogs finish in my breed by 13-18 months if the owner gets out to shows, while in some breeds you don't have a chance until the dog is 2 or 3.
__________________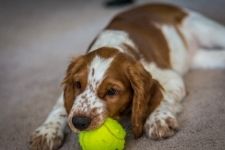 Watson - Ch. Truepenny Olympic Triumph RN CGC | Welsh Springer Spaniel | DOB 8.2.12
Hazel - Truepenny Bright Side of Life | Welsh Springer Spaniel | DOB 4.2.15