Heeling Help
---
I need help with heeling. Specifically, how to go from "left side walking with attention", to a formal heel on cue.

Right now, Watson has a decent grasp of the heel position while in motion. I can walk around our field and he will catch up and find the correct position on his own. Reward, release, repeat. He is getting better at turns and sticking with me. At this point, I don't have a formal heel cue other than "let's go", which I use for more casual situations as well. I've been avoiding adding a cue until I know what I'm doing, so I don't mess it up. So it's really "left side walking with attention" at this point.

I have done a little perch/platform work. He will gladly put his front feet on an object, and I can lure him around either way while he front feet stay on the platform. Where do we go from here? I'm not sure how to turn this into something more useful. I guess I need to get him automatically turning with me, instead of having to lure it.

Finally, I spend a lot of time helping/luring him find heel position at the start of an exercise (like beginning a practice rally course, for example). How do I teach him to find the position on his own when I'm stationary? We are working on finishes, so do I just keep perfecting a finish and use that? Or can I get "heel" on cue to the point where he can find heel position no matter what position he was previously in?

So where do I go from here? Everything I read seems to tell me what the final behavior should look like, but not the smaller steps to get there beyond the very simple beginnings which we've already done. We've done a lot of obedience classes, but they haven't addressed this and we don't have anything that focuses on heeling specifically. I feel like we have some of the pieces, but I don't know how to put them together.
__________________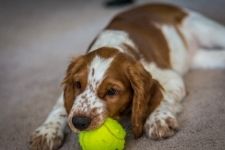 Watson - Ch. Truepenny Olympic Triumph RN CGC | Welsh Springer Spaniel | DOB 8.2.12
Hazel - Truepenny Bright Side of Life | Welsh Springer Spaniel | DOB 4.2.15
---
Last edited by Elrohwen; 10-24-2013 at

02:11 PM

.