Dogs and babies
---
I'm sure we've had plenty of threads on this, but I want everyone's tips for my specific situation -

Yesterday, we introduced Lillian's to my boyfriend's two family boxers. Hansel is a 4 yo male, and Rascal is a 6 yo female.

Rascal was super awesome. She sniffed the baby's feet, tried to lick her face, and when we corrected her, she just wagged her tail and then ignored the baby for the rest of the time.

Hansel....loves the baby. LOOOOVES her. As in, wants to lick her skin off and may think she's a toy. He's the type of dog that if he's ever around the baby, we'll have to be RIGHT THERE ready to intervene. He's a good dog, with basic obedience skills, and he listens, he just seems like he'll need constant direct direction near the baby, and if I even look away for half a second he'll be slobbering all over her or possibly pawing at her or something.

I'm not sure if the novelty will wear off eventually....but there's a good possibility we'll be living with these dogs sometime in the near future. If it's not a good living situation, the dogs CAN go live with his father (they're technically his dogs), but he doesn't have a fenced yard.

We've got plenty of baby gates and a good obedience foundation (he's got a solid sit, stay, leave it, and come command). We can work on a go-to-your-place command. I *THINK* he's crate trained but I'm not positive.

Also, I think he's a chewer. Besides being super-vigilant, keeping the baby's things picked up as best as possible, etc...anything to keep him from grabbing her stuff?
__________________
"My favorite color is green, green like newly cut grass. When it comes to green with envy, though, you can stick it up your @ss!" ~ Grammy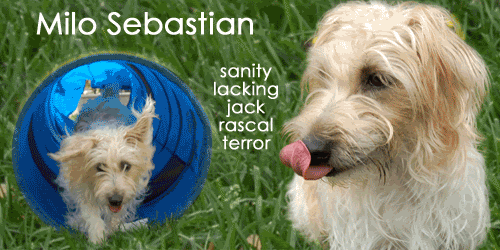 http://www.adorablebeasts.blogspot.com