last night was Ressie's night to hang out with me. Tonight is Potlicker aka Tiger or one of the three girls. Which ever you prefer.
Took this yesterday...she plays sooo gentle. Pat a cake with little gold paws. vid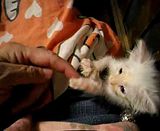 einstein's are coming up. Will try to take some nice ones in the morning.
__________________

Go Petie Go Go Who Go!
love comes in many directions with mary
Side by side on the sofa sat three annoyed dogs and one smug cat
and then in came a little white kitten,