I'm cheating and posting two. Sorry for the crappy cell phone pics!
At work, after we close down the pack for the night, the employee dogs generally go in the large dog pens (if they aren't occupied by boarders, otherwise they go in crates) Tonight we put all 3 in together. You can see Xena the pit and Snickers the beagle/basset lying on beds like normal dogs. Then there's Rowan, who has to lie with his face shoved through the fence so he can watch me while I work like, a total creeper.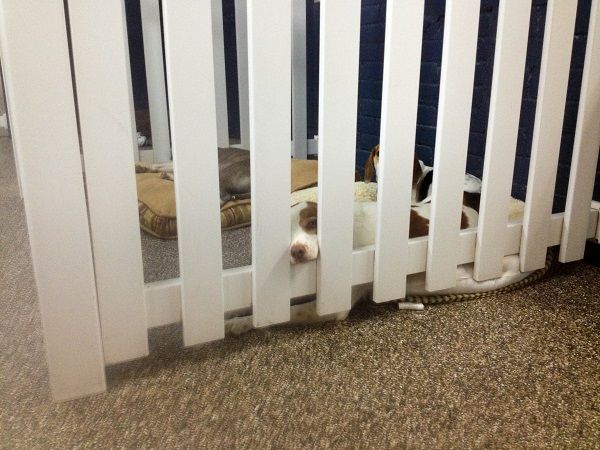 A boarding dog, Ukko the Finnish Lapphund, was supposed to go home tonight but his owners didn't get there till late. He didn't like being crated by himself, instead of in the boarding room with all the other dogs, since he was slated to leave and we don't want to wake the boarders up. He was being very whiny and noisy in his crate, so I finally decided to try putting him in with Rowan. You can see that Rowan is less than impressed, but Ukko was thrilled, and went straight to sleep after I took a pic.
I love that little guy! He's why I want a Lappie someday.