So I met up with Amber today and the dogs to do some lure coursing and dock diving.
Cricket and Joey were ROCKING the lure course. I didn't try Jackson out because I wasn't sure I trusted him, I feel like he would chase it for like half-way and then go run off into the woods or something
(it wasn't fenced) I'm paranoid!
But, I'm pretty happy with how he did for his first time on an actual dock. He looovess to jump in the side of my dads pool, but it's a lot different when he's so high up!
So they had 2 pools - with the smaller one, I kinda gave him a kind shove (LOL) into it, and he went out and retrieved his toy right away. We did it about 4x, by the 3rd time he was practically jumping in by himself but I still nudged him a bit to encourage him (I only did this because I know Jackson, and he's comfortable in the water, so I knew once he realized it was just like at home in our pool, he'd be more 'into' it)
Here's a short video of him swimming there:
http://www.youtube.com/watch?v=eAnuut8PcMc
Then we went to the official dock diving pool, and I never got him to go off the dock but he definitely was happy to jump from the ramp! So it's a start. I'm proud of the little dude.
http://www.youtube.com/watch?v=tUD4ZNDubaI
I think dock diving could definitely be a sport I can get into! They have open pool on Thurs. nights at this place so I'm going to go a lot this summer for practice before entering him in anything! The Labs and Mals were definitely ruling the pool, but how cool would it be to have a dock diving yorkie? haha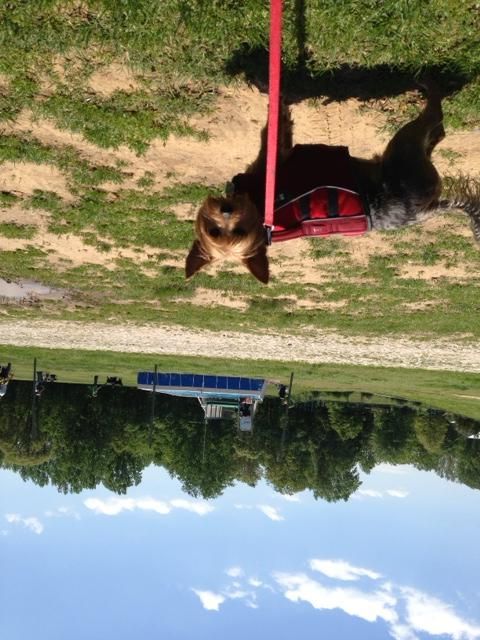 There's more pics, but Amber has them, and we'll post them in the pics section.
But YAY for dock diving finally!