Sooo exciting. He's been my favorite actor since, like, I was really really little. Forrest Gump was one of my first 'adult' movies I was allowed to watch and it's been my favorite movie since I was 5.
Anyway, I've just always loved all of his movies, and his work, and in general always seemed like a nice person. He really genuinely was.
We saw his Broadway show 'Lucky Guy' yesterday in NYC and we luckily ended up being some of the first out of the theatre and got our 'spot' right against the baricade by the exit door. All the stars came out and said their hellos and made their rounds and signed things (Peter Scolari, and Christopher Macdonald (I always knew him as the guy in Flubber and Leave It To Beaver, LOL), and Maura Tierny (ER, Liar Liar), Peter Geraty, and more.
He took pictures with maybe 5 or 6 people people, we were one of them, but he tried to sign for everyone, or as many as he possibly could. He was so nice, very genuine, joking and laughing with everyone. He just always seems like he's having the time of his life!
My step-sister was with me and she was like 'I know this is weird, but can you sign my hand?" and he was like joking "That IS really weird. What are you gonna do with it?" and she was like "I dunno, tweet it" hahah, he told her to tweet him.
He took the picture for us, he was glad I had an iPhone since he said "I actually know how to use this"
(Me and Tom Hanks have a really dumb look on our face, we were like mid-convo and then some dude behind me like rammed into my arm, thus my awkward face. My stepsis looks super happy though, lol).
My sister's hand, lol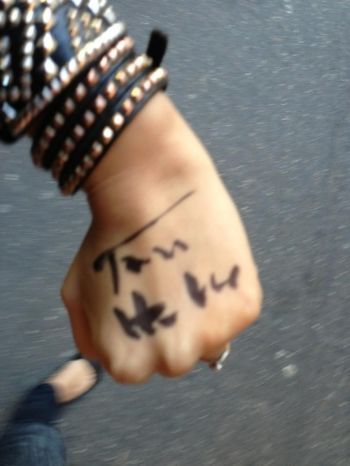 All the people behind us crack me up, like total paparazzi. They were all behind us being obnoxious and trying to push their way up.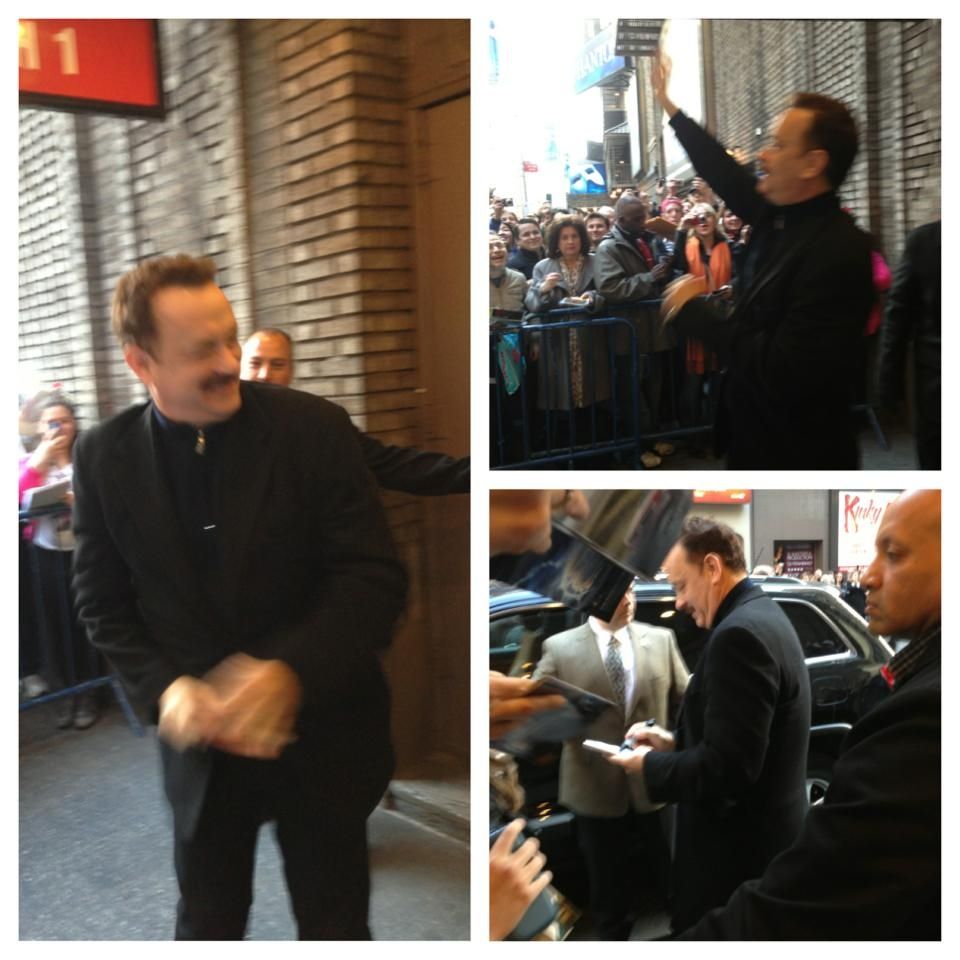 I got him to sign my favorite movie, Road to Perdition
Oh and so funny, we walked right into the theatre and John Stamos was standing right there. I already met him two years ago, but I kinda am wishing I would've asked for another pic with him, lol... I just didn't wanna be a bother, he was attending as an audience member, but then I turned around and saw he was taking a pic with someone else. Ah well. He's so nice... and hot.
I was trying to upload the other pics, but my internet here (at dads house now) succkkksss.