---
First of all, I'd see a vet ASAP about his neck. It could be any number of things from absolutely nothing, to very minor cysts, to something more serious. You won't know until a vet checks it out.

For housetraining, it sounds like the puppy has been well-trained to go on the pee-pee pad, but he may have been scolded for going potty elsewhere, which is why he is unwilling to potty in front of you outside. I would try taking the pee pee pad up during the day or when you're home, so it's not an option, and starting over housebreaking from the beginning. DO NOT scold or frighten the puppy for peeing in front of you, in or out of the house. Simply praise and treat him if he does go outside, try to prevent accidents inside, and if he starts to potty inside, grab him and take him outside right away.

You might also try bringing the pee pad outdoors, setting it on the grass where you want him to go, and giving a command such as "go potty" or "business". Praise him for going on the pad, and after a few days, try bringing him out to the grass and giving him the command with no pad there.

As far as him darting away or not wanting to be touched, that's fairly normal puppy behavior, especially in certain breeds or if the puppy came from somewhere where he was scolded a lot or frightened. Don't force yourself on him, try not to grab him suddenly...let him drag a light leash around the house for safety and control, and keep treats on you (in a pocket or pouch) at all times and reward him whenever he approaches you on his own. Soon he'll realize being near you or paying attention to you = treats, and will be much more willing to hang close by.

As he gets more used to you and a bit older you can start doing things like rewarding him for allowing you to grab his collar, and teach a real recall where he needs to sit at your feet...but for now, just let him get used to you and learn that being close to you is good.
__________________
"My favorite color is green, green like newly cut grass. When it comes to green with envy, though, you can stick it up your @ss!" ~ Grammy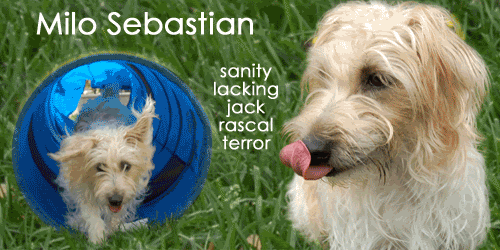 http://www.adorablebeasts.blogspot.com