Hearing Tests?
---
Hey guys. I know I've been really scarce lately. Been so busy.

Eevee just turned 13 last month, and yesterday it dawned on me that her lack of responsiveness to my calling her could actually be because she might be losing her hearing. I was testing it out yesterday, making sounds behind her trying to see if she'd twitch an ear or something. For the most part, I got nothin. -.-

This leads me to my question. Are there hearing tests at the vet to determine whether Eevee can hear or not? And if there are, are they expensive?
__________________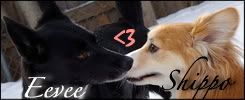 Eevee
14-year-old
F
Border Collie Mix -
My Heart Dog!
Ravinel Fox Magick, CGC (Shippo)
8-year-old
M
Pembroke Welsh Corgi
Cheetah's Training Blog