At least I think so. Pepper and her barely controlled tongue. It's just so hard when babies are so yummy. click for vid-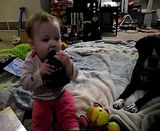 They stuck pretty close together all evening. Baylee would like Victor to hang around more,but he said a little baby goes a long way and he will admire her from his chair.
__________________

Go Petie Go Go Who Go!
love comes in many directions with mary
Side by side on the sofa sat three annoyed dogs and one smug cat
and then in came a little white kitten,