Muzzle training a toy-motivated dog
---
Milo is gonna be spending plenty of time around the baby with a muzzle on.

Training him to wear the muzzle with bits of cheese, while not much is going on, is pretty simple.

Training him to act normal around stimulation (baby, other things) with the muzzle on with bits of cheese is a way different story.

It JUST occurred to me that whenever we're dealing with a high stress situation, and with things that send him over threshold, I use toys. He likes them WAY more than he likes food. He can not play with his squeaky toy while wearing a muzzle.

Uh-oh.
__________________
"My favorite color is green, green like newly cut grass. When it comes to green with envy, though, you can stick it up your @ss!" ~ Grammy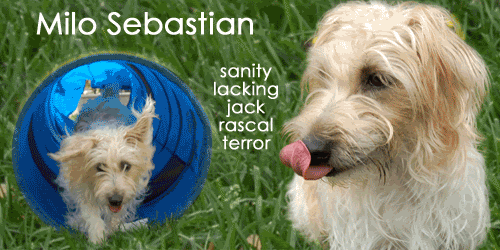 http://www.adorablebeasts.blogspot.com