Spinning slowly, like back leg is bothering him
---
Anyone seen anything like this before?

Jackson, for probably the last two-ish months?... maybe three, has occasionally gotten up from laying down for a while, and it's like his back legs get super stiff or something. He spins in slow circles, like he's trying to reach his back leg maybe, but he can't. He'll do it for about 30-60 seconds. It's very slow spinning though. I hesitate to even call it 'spinning' because he's mostly just acting like he's trying to reach his back end and can't.

It doesn't occur every day, but when it does, it's always been after laying down for a long time. Which leads me to believe, it is maybe just joint stiffness. It never happens after hard exercise. Only after getting up from laying down. But the fact that it's happening somewhat often all the sudden kind of concerns me. I don't think it's neurological - I mean, he's shown no other symptoms. Back problems perhaps? I just don't know.

Joint stiffness just seems odd... he's not that old (4 1/2), very active, still runs like normal, is fine at agility, easily hops on/off furniture, high places, stairs don't bother him, etc. A part of me wonders if doing agility classes is related in any way... come to think of it, I think this started shortly after, but we were only doing them once a week and took a break in between. And like I said, he's very agile, and absolutely fine during class and doing active things.

He's always had an issue with a certain spot while being picked up. If you pick him up in the wrong way, he yelps really loud. It's the area on his sides, close to his back end. He's always done this, though, and has been vet checked many times and everything always checks out well. At the vet check in November for his yearly, his legs are fine, knees are great, no signs of LP or the like. So I just assumed it was his sensitive spot.

It's a little worrisome to me. I will probably make a vet appt. soon, but wanted to know if you all had any ideas.
__________________
Brit & Jackson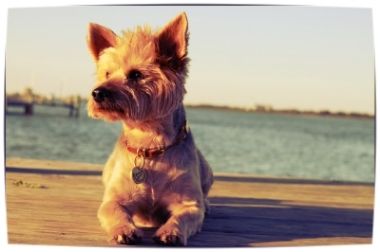 ---
Last edited by JacksonsMom; 02-23-2013 at

12:38 PM

.