So at puppy class when play time came around Talon failed. >_< He is right in between weight for big dog group or small dog group. I was a bit nervous about the big dogs and thought since he plays with Art well he would do best in the small dog group. So I put him in with the small dog group.
He failed though, he just tackled/bullied the small dogs to no end. I guess they do not = Art lol We had to take him out for time outs twice before removing him completely as he was just being a jerk. He also spent half the time he was in there looking for treats and pushing dogs out of the way if he thought they found a treat. ERG
So last week we missed class because the dogs were so sick. So this week we have class again and I'm wondering if I shouldn't put him in with the big dogs?
He is also very movement reactive. If the dogs run he will chase and nip at them. Any suggestions? I know this is a very common herder trait, our instructor also tried to reassure us it was a common herding dog trait and to try to distract him. Problem is he can't have treats when playing with other dogs or he get's a bit possesive.
Also, he went to the dog park this morning as he was bouncing off the walls and we've been meaning to check it out anyways. So it was their reward for feeling better lol He did GREAT! He was not a bully at all!
There wasn't a ton of people, but there was a large lab/pit mix, a little lab mix puppy about his size, a boston terrier puppy (very small), a little terrier mix, a standard poodle, a large lab mix, and a people and kids lol
When he initially came in he went and met the other dogs with no issues. Well, his hackles went up a little but he quickly calmed down. I think it was more excitment than anything else. The lab/pit mix tried to hump him more than once (the owner stopped it immediatly each time, and distracted the dog, A+ owner lol) and he didn't over react! He once told the dog to stop by snapping at him but then he was friends with it aas long as it didn't hump him.
He loved the lab mix puppy as it was just his size. That puppy was perfect for him to play with and they romped and tackled and played super well.
Oh, here's a short video, sorry it's crappy and I just keep talking >_< Also, this was the only time he got tackled by the puppy and he wasn't fond of it, but that was the only "problem." Not a big deal, he had fun again after lol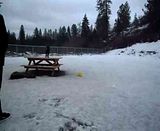 So basically, puppy class = horrible evil dog. dog park = perfect playful dog. So now I'm dreading puppy class a bit. blah, any suggestions on how to make him more comfortable playing with the dogs at puppy class and not be such a jerk?