Does your dog "get" cats?
---
How do they interact with cats?? Chase aggressively, play too roughly, treat them like another dog, scared of them, ignore them, other?

Milo grew up with a cat...and was usually fine with her, although sometimes he would get a bit aggressive if she did something to **** him off, he never hurt her and could be called off. He'd annoy her by nudging her and trying to get her to play, most of the time. She died before his aggression issues got more serious, though.

Now, we have two cats, and Milo is mostly separated from them except when closely supervised. One of the dumbass cats thinks chasing him, darting out at him, etc. is hilarious, and seemingly had a death wish (Milo growled at him a few times when he startled Milo, which the cat thought was incredibly amusing, so their bonding time has been cut VERY short).

But recently, Milo's been a lot more tolerant of surprises, and the cat has been a lot more interested in just chilling in the room with him instead of hiding atop bookshelves and leaping into his face unexpectedly. So, they've spent a bit of time together, which usually involves Milo running from me to the cat with a big stupid grin on his face, and the cat pawing at him, to Milo's extreme delight.

Tonight, my dad was petting the cat in the living room, and I let Milo in to hang out. The whole family was there, and since Milo was being super nice to the kitty and was really relaxed and happy, he got 3x the praise he usually does around the cat, which nearly made him explode with happiness. He kept running up and licking Dash's ears and then darting a few feet away, so I said "Milo, he's gonna getcha!" which is what I say when Milo and I play chase, so Milo took off across the house.

When he realized the cat was not following, he tried again. No luck. So...it was time to problem solve. He ran, grabbed a ball, and threw it in the cat's face before playing bowing and spazzing out. The cat was not amused, but the ball bounced enough that I'm pretty much Milo thought Dash was responsible for it. So he spent a good 15 minutes throwing his ball at the cat, then prancing around in full bliss that the cat was playing with him every time the ball rolled away.

He really does enjoy the company of other animals, and it makes me so happy to see him playing with another dog, or our cat, after all the work we put into it. It would be worth it, even just for the peace it brings and having a dog that doesn't flip out around other animals, but it seems 100% more worth it when he's racing around with the other dogs or smiling so hard at the cat it looks like his face will fall off.
__________________
"My favorite color is green, green like newly cut grass. When it comes to green with envy, though, you can stick it up your @ss!" ~ Grammy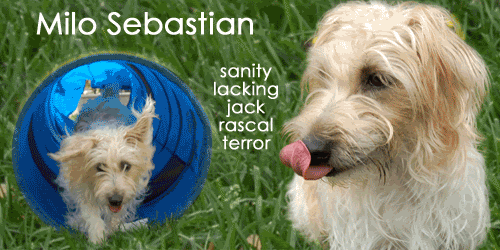 http://www.adorablebeasts.blogspot.com