Would this concern you?
---
I've been volunteering for a local pit bull rescue for not quite a year. I'm not a regular volunteer or anything, I just occasionally go help out at adoption and education events, and occasionally take dogs to the vet or transport, whatever.

The guy who runs the place also owns and operates a local martial arts studio. He often holds adoption events at this studio. It's a large rescue, and he sells apparel and dog products in order to help run it, as well as relying on donations and some of the money from the studio.

He also does a lot of investing, stocks, stuff like that. He might do some financial advising. He recently hired me to do office work for this financial business, which I was told by another worker that he owns. When I started looking into that business, to see things like how long ago he started it and whatever, I found A LOT of "information" about the rescue online.

This "information" is all comments by random people on articles about events or situations the rescue has been involved with. The comments include stuff like "Don't donate to this group, they'll use your money to feed their alcohol addictions" and that the guy I work for "has been linked to dogfighting" and is "banned from pulling dogs in NY and MD but still gets them from California". There's also an article about a specific rescue dog (rescued from fighting), and comments say that my boss "kept him in a warehouse until he was ultimately killed in another fight". I don't know anything about this dog...I assume it is possible he was killed in a dog fight...but I highly doubt it was in a dogfighting ring.

I know that this guy can and does legally pull dogs from shelters in NY. The rescue kennels are really well kept, his own dogs are all well-cared for....I've never seen anyone at this rescue drink, and they're obviously not abusing alcohol to the point where it's interfering with work. Basically....there is nothing remotely sketchy or disconcerting about this rescue (except for the fact that the guy runs a financial advising business, MMA studio, and pit bull rescue all out of the same two buildings). Do I assume this is slander, or look further into it?
__________________
"My favorite color is green, green like newly cut grass. When it comes to green with envy, though, you can stick it up your @ss!" ~ Grammy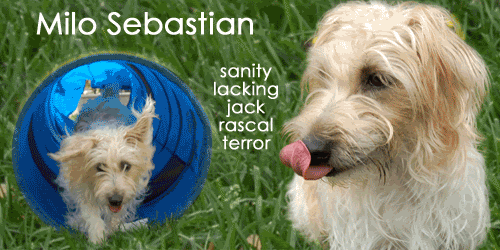 http://www.adorablebeasts.blogspot.com