What do you do with all your dog's crap? LOL
A little over a year ago now, I started getting more organized. His stuff used to be just... everywhere.
I got rid of some stuff, sold others, etc, to 'clean up' a bit last year.
Here's what I have. Can you tell a spoiled rotten dog lives here?
Anyway, I'm still living at home, and I have my own back area of the house (living space, bathroom, then my bedroom).
So, he's pretty much taken over my closet space.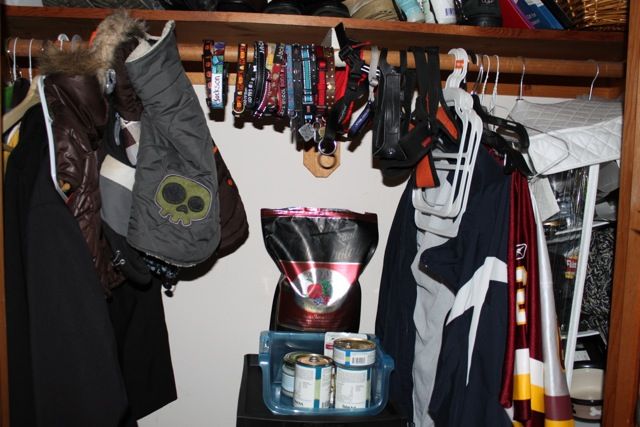 I recently started hanging his collars on the rack, and harnesses. I found it easier to keep track of, see, etc. You can also see some of his coats hanging up. MY part of the closet still needs work (that white shelf thing hanging up is sooo messy and unorganized. My next project).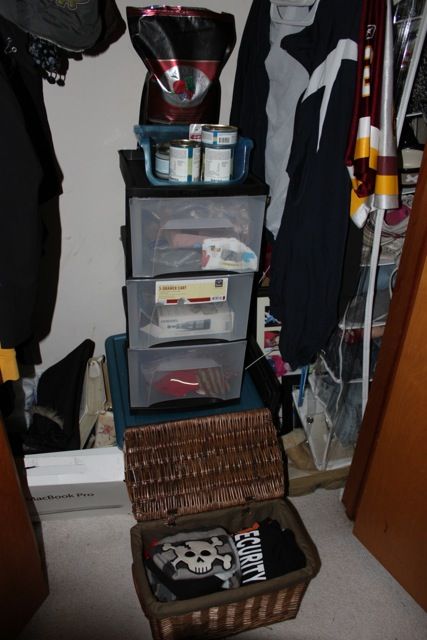 That whole plastic storage bin thing is his. Top drawer is bully sticks, chews, etc. Second drawer is bandanas and costumes. Third drawer is just whatever else random stuff I have (Dremel, etc). Oh and that little basket on the bottom holds his holiday shirts, sweaters, etc that I have. I only put it out like that for the picture, lol.
This is on the back of my closet door right now. I tend to shove things in there, so again, kind of needs to be cleaned out. Just have some sample food bags in there, shampoo, brush, teeth stuff, etc. I got that thing for really cheap (like $4 or something) -- good purchase though! It helps me keep stuff off the ground, counters, etc.
Our collar collection. Believe it or not, it got less! I sold a few collars, gave some away, etc, so this is what we're down to. To be honest, he doesn't wear like 75% of them. The main one he wears is the Paco, and the Kong collars for when I know he's going to get really wet/dirty/etc. The two personalized black leather collars with his name on them don't fit right - and since they're personalized, well, not really sell-able or give-away-able, LOL, so they just stay sitting pretty.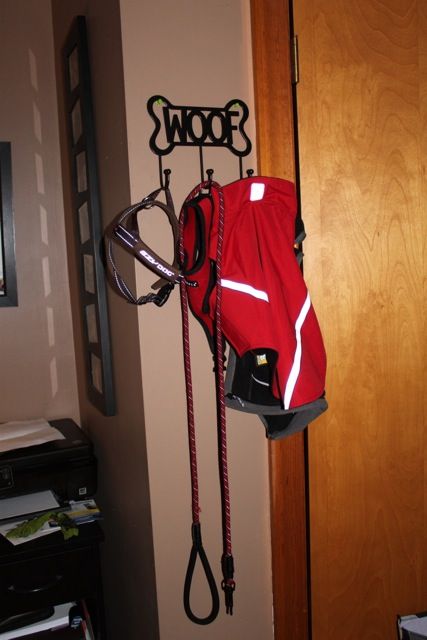 This is hanging up right next to my closet door, in my bedroom again. Got this little thing for really cheap too (the Woof sign), and again, so worth it. This is our stuff we grab a lot, so I keep it out. His ezydog harness, Puppia harness, Kong leash, and two coats.
This is right outside of my bedroom door. We have a bar in my back room and there's a wine cooler/fridge thing and that's what this stuff is sitting on top of. It's easy access, food (his food bowl is right underneath this), and meds (heartworm, etc), and treats.
Then there's his toy chest.... yes personalized, LOL. My mom got it for a Christmas present last year for me. I love it. Looks good, and easy to throw toys, bones, etc so they're not laying all over my floor. It's in my bedroom under my TV.
So yup, there's all of our crap! I'm limited space in the house, so that's why it ends up all in my bedroom and closet, LOL, once I have my own place, I'm sure I'll have another organizational method.