There's a stray Border Collie (Border Collie x ?) in the neighborhood where my oldest son's school is located. He's out in every type of weather condition, and I've talked to numerous neighbors who say he's a recent stray that's been hanging around. I've been trying to work up a little trust, and he'll now come up to me outside my vehicle, but he won't get close enough for me to loop a leash around him (I haven't tried yet, as I don't want to push him away). He's not aggressive, but seems skittish and scared (no signs of fear aggression, but just seems confused and scared). I'm guessing he was dumped in the woods that borders the neighborhood, as that's where he comes from and returns to. As it is, a nice neighbor has been feeding him, so he's actually not as skinny as he was. But she's older a d is hesitant to try and actually catch him.
I'm so used to picking up stray pit bulls off the road, and they have all happily jumped right into my vehicle or at least let me pick them up and put them in, that I'm at a loss on his to proceed with this fella.
It was raining buckets this day, so I stayed in the vehicle, but he has gotten to where he'll approach my vehicle. What's amazing is that he has to picks me out of quite a long carpool line. So he's no dummy!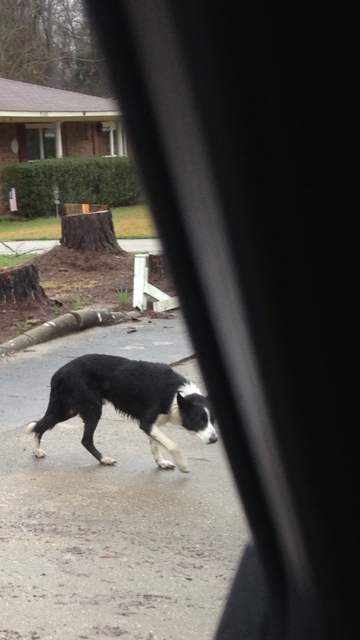 I'm afraid it's going to come down to calling A.C., and I just hate for him to have to go there. But it beats getting shot or hit by a car.